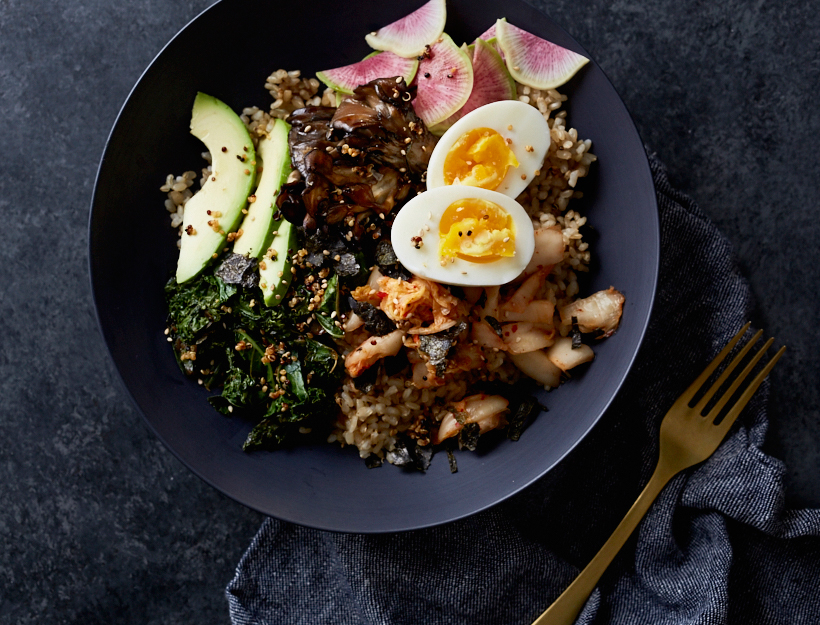 Faux Bibimbap with Crispy Quinoa
Who doesn't love a grain bowl? This rendition has all the usual (delicious) suspects, but the addition of the crispy quinoa is a fun textural surprise next to the creamy avocado and toothsome brown rice. Needless to say we're putting crispy quinoa on everything over here.
1. To make the crispy quinoa, heat the oil in a pan over high heat, toss the dried and cooled quinoa in the oil, and let it fry for about a minute. It should smell nutty and the grains should feel firm. Transfer to a paper-towel-lined plate and season generously with sea salt while warm.
2. Combine the ginger and tamari and set aside.
3. Sauté the mushrooms and shallot in the olive oil over medium-high heat for 3 minutes, then add the greens. When the greens are tender, remove from the heat and add the ginger-tamari mixture.
4. Place the brown rice in the bottom of your bowl. Top with the cooked mushroom mixture, boiled egg, kimchi, sliced avocado, and watermelon radish. Garnish the bowl with some toasted nori, toasted sesame seeds, and a handful of crispy quinoa.