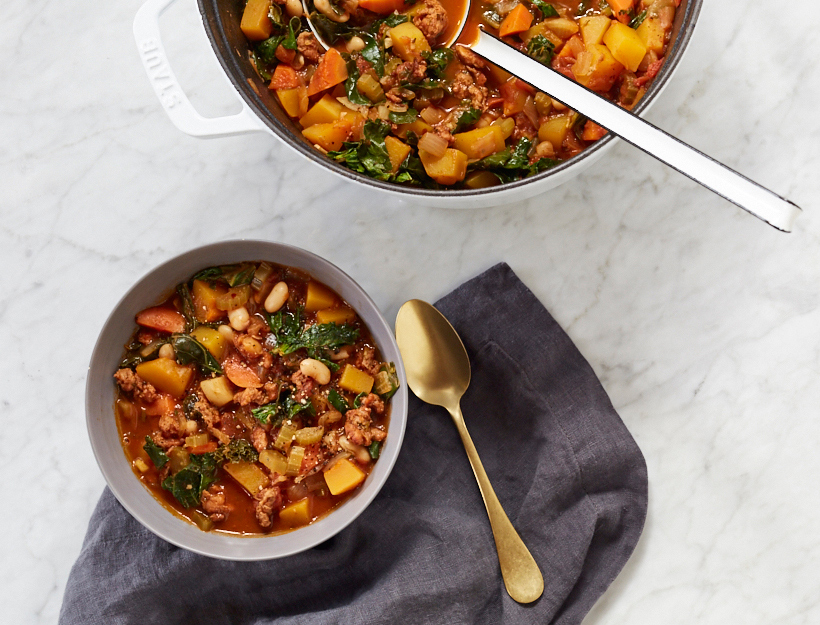 Chicken Sausage and Bean Stew with Winter Veggies
This gluten-free riff on a classic ribollita is incredibly warming and nourishing. It gets better as it sits, so make a double batch and freeze it for a busy weeknight supper.
1. In a medium sized dutch oven, or any heavy bottomed soup or stock pot, heat about 2 tablespoons of olive oil on medium high heat. When it's hot, add the sausage, breaking it up with your spoon as it browns.
2. Add in the fennel seeds, chili flakes and a pinch of salt. When the sausage is nicely browned and fully cooked, remove it from the pot with a slotted spoon, leaving whatever oil is left in the pan. Set the sausage aside in a bowl.
3. Reduce the heat to medium. Add the onions, garlic and salt to the pot, scraping up all the brown bits from the sausage. Add the remaining 2 tablespoons of olive oil to the pan. Let this cook, and almost caramelize for about 10 minutes.
4. Add in the carrot, celery, thyme, rosemary, and bay leaf. Let these vegetables and herbs cook for another 10 minutes or so. Now add the turnip and squash along with the quart of stock and can of tomatoes. Cover the pot and let this simmer for about 45 minutes to an hour, just until the turnips and squash have softened.
 5. After about 45 minutes has passed add the sausage, beans, and greens to the pot, let this simmer uncovered for another 20 minutes, just until all the flavors have melded.
 6. When ready to serve, finish with flaky salt, fresh pepper, and a healthy glug of good olive oil.