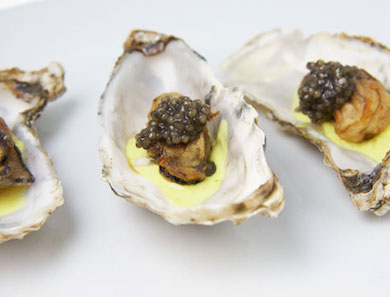 Fried Oysters with Curried Crème Fraîche
This is indulgent, but if you're just making it for two, it's a delicious and decadent gesture. Feel free to skip the caviar.
1. Heat the tablespoon of olive oil in a small saucepan over medium heat.
2. Add the shallot and cook, stirring for about 4 minutes or until just softened.
3. Add the curry and cook for another minute.
4. Add the champagne, bring to a boil, lower the heat and simmer until reduced by half, about 3 minutes.
5. Stir in the crème fraîche and keep warm over a low flame.
6. Meanwhile, steam the oysters for 5 minutes.
7. Using an oyster knife, open the shells, drain the juice, and remove the oysters (use the knife to separate them from the adductor muscle), being sure to reserve both the oysters and their rounded shells.
8. Rinse and dry the shells.
9. Pour enough oil into a skillet to cover it by ¼-inch (about a cup in a medium skillet). Heat over a medium flame.
10. Dredge the oysters in the flour. Test the temperature of the oil with a drop of water or a pinch of flour—it should sizzle on contact.
11. Fry the oysters in the hot oil for about a minute on each side, or until golden brown and crispy. Drain on paper towels.
12. Put a spoonful of the curried crème fraîche into each shell and top with a crispy oyster and a small spoonful of caviar.
Originally featured in Valentine's Day