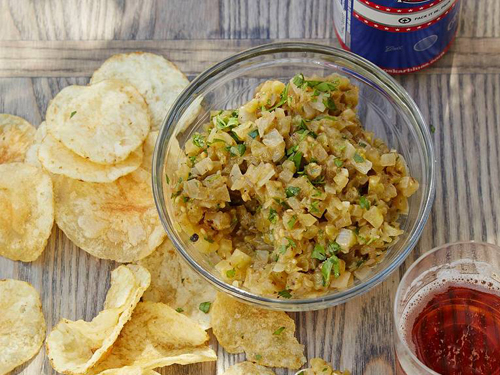 Fried Green Tomato-Cilantro Relish
Frying the tomatoes first gives the relish that extra depth, making it almost a meal in itself. I've been known to eat it with salty potato chips and beer and not regret it at all.
1. Heat a teaspoon of olive oil in a large skillet over high heat. Working in batches, add the slices of green tomato in a single layer and fry for about 2 minutes on each side, adding more oil as necessary. Transfer to a plate.
2. When all the tomatoes are fried, add the remaining olive oil to the pan, then add the onions and garlic and cook over low heat until the onions are translucent and soft, about 4 minutes. Remove from the heat.
3. Finely chop the fried tomatoes and place in a medium bowl. Toss in the onion and garlic, add the cilantro, mustard, vinegar, sugar, fennel, cumin, salt, and pepper, and mix thoroughly. The relish can be stored in an airtight container in the refrigerator for up to 2 weeks.
Originally featured in The goop Cookbook Club: Smoke & Pickles