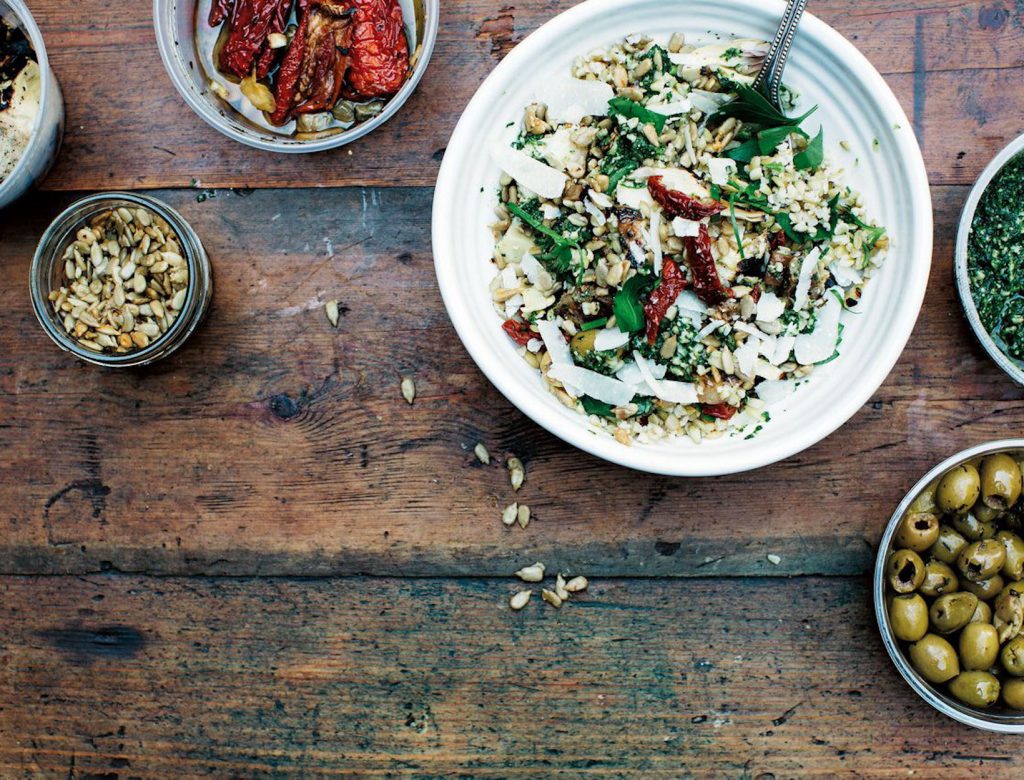 Freekeh with Deli Vegetables, Kale Pesto, and Chili-Parmesan Sunflower Seeds
This recipe is basically a love letter to the olive bar. Packed with delightful briny marinated vegetables, freekeh, kale pesto, and some crunchy salty spicy sunflower seeds, this salad really has it all. We especially love that you can mix and match it with whatever marinated or pickled veggies you'd like.
4 to 6 cups marinated deli vegetables (about 4 pounds) such as sun-dried tomatoes, artichokes, olives, capers, eggplants, and bell peppers
2½ cups freekeh, rinsed
3 tablespoons roughly chopped flat-leaf parsley leaves
½ cup basil leaves, torn
juice of ½ lemon
sea salt and black pepper
for the KALE PESTO:
½ bunch kale leaves, washed thoroughly
1 clove garlic, very finely chopped
½ cup sunflower seeds, toasted
¾ cup extra virgin olive oil
3 tablespoons grated Parmesan
sea salt and black pepper
for the CHILI–PARMESAN SUNFLOWER SEEDS:
¾ cup sunflower seeds
1 tablespoon extra virgin olive oil
2 tablespoons grated Parmesan
½ teaspoon chili powder or red pepper flakes
1. Roughly chop or tear up the marinated vegetables with your hands. The shape and size is up to you.
2. Add the freekeh to a large saucepan of salted water and bring to a boil. Reduce the heat to a simmer and cook, uncovered, for 40 to 45 minutes until the grains are tender. Drain.
3. To make the pesto, blitz the kale, garlic, and sunflower seeds together in a food processor, gradually adding the olive oil along with 1 tablespoon of water, until you have a smooth, green sauce. Stir in the Parmesan and season to taste with salt and pepper.
4. For the chili-Parmesan sunflower seeds, preheat the oven to 300°F (150°C). In a bowl, combine the sunflower seeds, olive oil, Parmesan, and chili powder or flakes (the heat factor is dependent upon the type of chili powder you use, so exercise your discretion here and vary the amount according to your preference). Mix well to coat the seeds evenly in the flavorings, spread on a baking tray, and bake for 10 to 12 minutes until the cheese is melted and the seeds are golden.
5. Combine the freekeh, marinated vegetables, and herbs, and season with salt and pepper. Squeeze over the lemon juice, spoon over big dollops of the kale pesto, and fold through gently.
6. To serve, sprinkle over some chili-Parmesan sunflower seeds. (You may have extra, so store them in an airtight jar to snack on later.)
From Neighborhood by Hetty McKinnon © 2016 by Hetty McKinnon. Photography © 2016 by Luisa Brimble. Reprinted in arrangement with Roost Books, an imprint of Shambhala Publications, Inc. Boulder, CO.