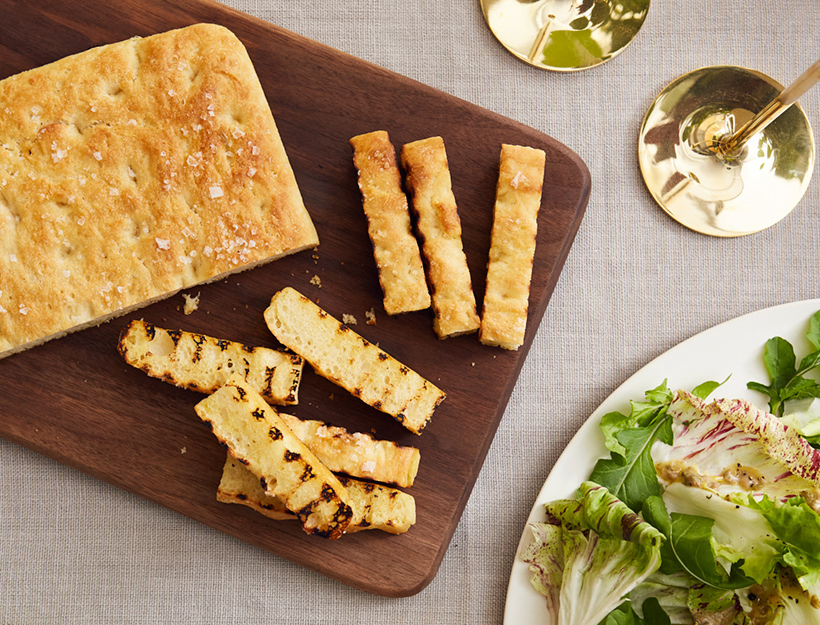 For anyone intimidated by the idea of making your own bread, this focaccia recipe is a perfect place to start. It's easy to make, comes together in just a few hours, and is still incredibly impressive. Use any leftovers for sandwiches or to make incredible croutons for salads. If your kitchen is cold, let the dough rise above or beside the warm oven.
1. Combine yeast, sugar, and warm water in a small bowl or liquid measuring cup. Let proof 5 minutes (the yeast should be bubbling).
2. In a large bowl, mix together the flour and 1½ teaspoons salt. Add the yeast mixture and mix with your hands or a spatula to combine. Knead for 1 or 2 minutes, just until the dough comes together and is smooth.
3. Coat another large bowl lightly with olive oil and transfer the dough to this new bowl. Knead another minute, mixing in a little olive oil, then drizzle over a bit more olive oil and cover the bowl with plastic wrap. Let the dough rise in a warm place for 1 hour.
4. Preheat the oven to 425°F.
5. Coat a 13×9-inch rimmed baking sheet lightly with olive oil and transfer the dough to this prepared sheet. Spread out the dough evenly in the pan, drizzle lightly with oil, and let rise 30 more minutes.
6. Use your fingers to punch holes on top of the dough, then sprinkle generously with sea salt.
7. Bake for 20 to 25 minutes, or until the top is beautifully golden. Remove from the oven and let cool before eating.
Originally featured in Foolproof Italian Dinner Party