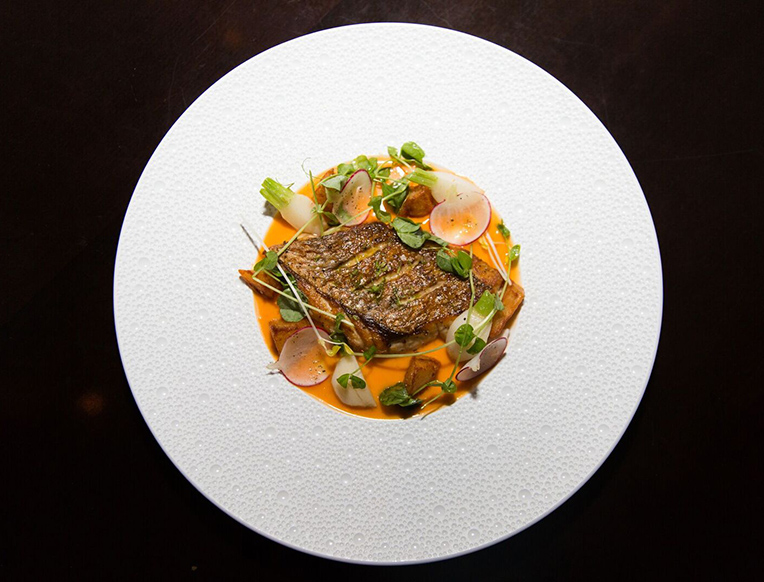 Florida Red Snapper with Chili-Garlic Sauce and Crispy Potatoes
Chef Ford loves red snapper and after tasting this dish, we understand why! We simplified this a bit (skipped the thyme oil and fava beans) but the combo of spicy sauce, crispy potatoes and fish is killer even without them.
1. Preheat the oven to 450°F.
2. To make the sauce, combine garlic, olive oil, and water in a small pot and cook over medium-low heat until garlic is completely tender (all of the water should be cooked off) but not caramelized.
3. Add the chicken stock and bring to a simmer. Cook, covered, for 30 seconds, then remove from the heat. Transfer to a bowl on a scale and weigh (you need 1570 grams, so reduce the mixture more or add water as needed to obtain this weight). Then, pour the sauce into a blender with the salt, lime juice, and chili and blitz until completely smooth. Season to taste with salt and set aside until ready to use.
4. Wrap each potato in 2 sheets of foil and arrange them, folded side down, on a lined baking sheet on a cooling rack. Bake in the preheated oven until completely cooked, about 1 hour. Then, immediately unwrap packages, peel, and cut in half lengthwise. When cool enough to handle, break into 1 ½ inch pieces and scatter on a baking sheet to cool.
5. Heat oil to 375°F in a deep fryer or dutch oven. To cook the fish, season each filet with salt and pepper and heat grapeseed oil in a large sauté pan over medium-high heat. Cook each filet, skin side down, for about 3 minutes, or until nicely browned. Flip and cook 1 more minute (this may vary depending on the thickness of your snapper) or until just cooked through.
6. Fry the potatoes in hot oil until crispy, then drain on a paper towel-lined plate. Season with salt.
7. To finish the dish, heat ¼ of the sauce in a small saucepan until just warm. Heat the blanched snap peas quickly in a small sauté pan. Divide the warm sauce between 6 plates, then top with crispy fish filets, potatoes, and snap peas. Garnish the dish with a little olive oil and a few pea shoots.
Originally featured in DIY Recipes from the Matador Room