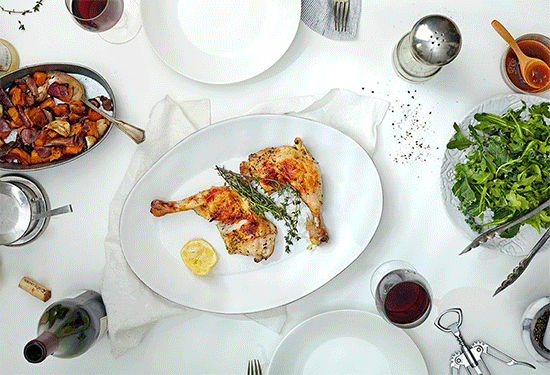 This is a perfect, quick weekday dinner when served with roasted sweet potatoes and red onions.
1. Preheat oven to 450°F. Place the potatoes, red onions, and whole, unpeeled garlic cloves in a large roasting pan and season with salt and pepper. Season the chicken thighs with salt, pepper, and Herbs de Provence and nestle them into the roasting pan with the sweet potatoes. Add the lemon juice and about three tablespoons of olive oil. Mix the oil to coat the potatoes and rub the oil into the chicken legs with your hands. Arrange the thyme evenly around the potatoes and chicken.
2. Place in the oven and roast uncovered for about 30 to 35 minutes. The skin should be crispy and golden brown and the juices from the leg should run clear. Transfer the legs from the pan to a serving platter and cover with tin foil. Gently toss the potatoes and red onions and place them back in the oven to roast for about 10 minutes more, or until browned and cooked through, while the meat rests.
3. Garnish the chicken with fresh thyme sprigs (if desired) and serve with the potatoes and a simple green salad, like wild arugula dressed with olive oil and lemon.
Photography by V.K.Rees.
Originally featured in One Bird, Three Ways