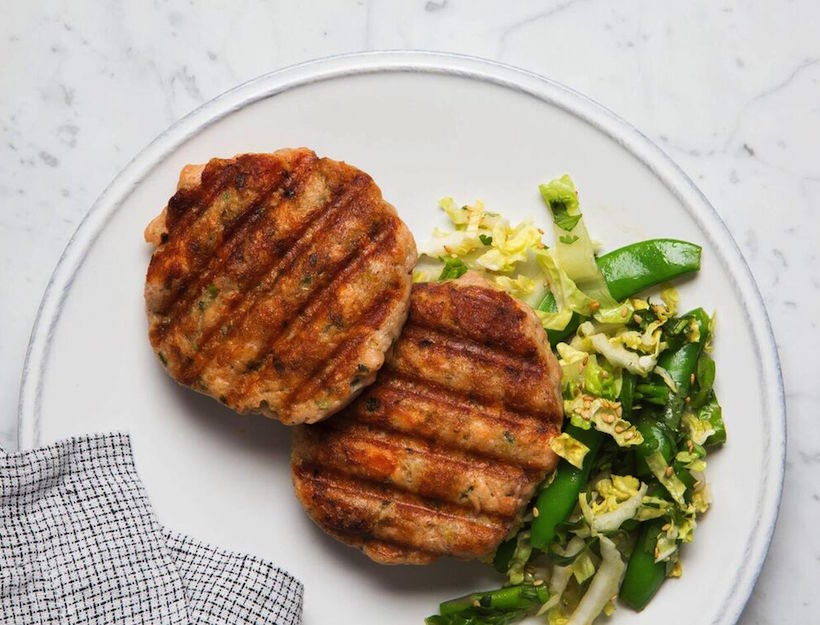 Five-Spice Salmon Burgers
These salmon burgers are a favorite around the office. If you're not detoxing, make three large burgers and serve them on brioche buns with sriracha mayo.
1½ pounds salmon, skin removed and cut into 1-inch pieces
4 scallions, thinly sliced
1 (2-inch) piece ginger, peeled and minced
1 clove garlic, minced
2 tablespoons gluten-free tamari or coconut aminos
½ teaspoon five-spice powder
½ teaspoon salt
½ teaspoon toasted sesame oil
1. Place salmon pieces in the freezer for about 10 minutes, until they're very cold but not frozen. In batches, add the salmon to the bowl of a food processor and pulse until it's well minced but before it becomes a paste (about 10 1-second pulses).
2. Remove the salmon to a large bowl and blend the remaining ingredients in the food processor until very smooth, about 1 minute. Add this to the bowl with the salmon and use a fork, spatula, or your hands to thoroughly incorporate all the ingredients. Either cook right away or cover and refrigerate for up to 2 days.
3. To cook, place a grill pan over medium-high heat. Form the salmon mixture into 6 equal patties, and when the pan is hot but not smoking, grill the burgers for about 3 minutes on each side.
Originally featured in The 2016 goop Detox