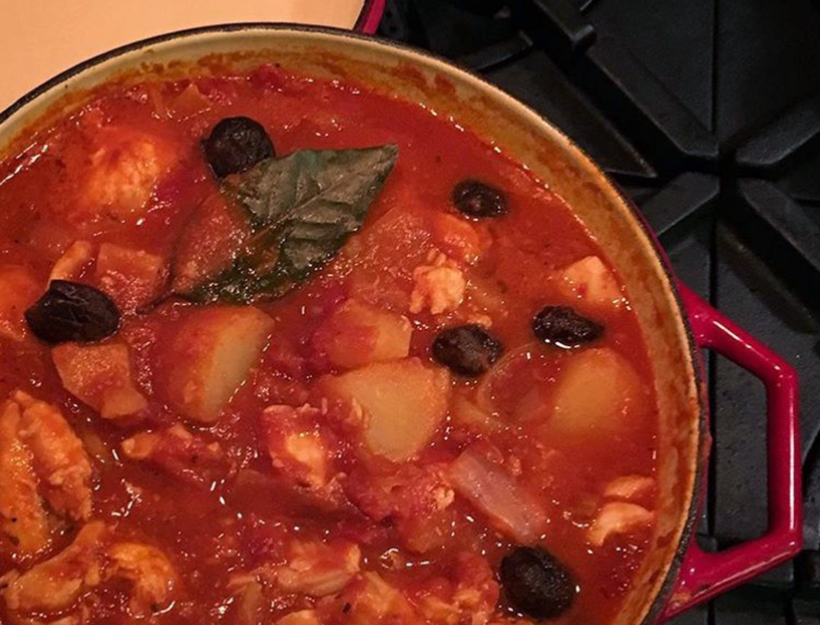 Fish With Tomatoes
This quick fish and tomato stew makes the perfect lunch or dinner for friends—serve with a big green salad and crusty bread or potatoes to sop up the sauces.
1 big yellow onion
A few cloves of garlic
2 ribs of celery
1 tin of anchovies in oil
White wine vinegar
28-ounces of chopped tomatoes.
1 cup of black olives (oil-cured are nice but you can work with what you've got)
2 teaspoons of smoked paprika
1 bay leaf
A few sprigs of thyme
2 pounds of fresh cod or other thick, firm white fish
Flat leaf parsley
Olive oil
1. Roughly chop your peeled onion, garlic, and celery and saute them in the oil from the anchovies. Once the vegetables are softening and becoming translucent add the anchovies and a tablespoon of vinegar and stir it all together.
2. Add your tomatoes, olives, smoked paprika, bay leaf, and thyme.
3.Let this all simmer gently together for about half an hour, then add your fish, cut into big chunks and stir.
4. Put the lid on your pot, lower the heat, and let it be for 10 minutes.
5. Tear up the parsley and strew it on top, with a good glug of olive oil and a splash of vinegar to freshen the pot.
Originally featured in The Brilliant Makeup Artist Dick Page…Cooks!