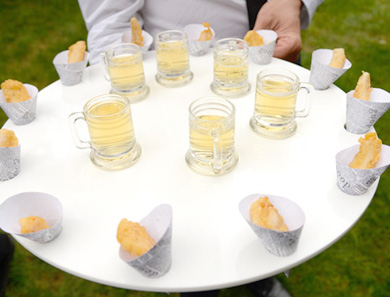 We worked with the team over at Mary Giuliani Catering to build an appropriately British menu for the Stella McCartney x goop event.
1. Whisk together the flour and baking powder. Add the egg yolk and beer and whisk until combined into a smooth batter (about the thickness of pancake batter). Keep chilled until ready to prepare the fish.
2. Preheat the fryer to 375°F. Prepare the batter: whip the reserved egg white to soft peaks. Fold the eggs whites into the batter and use immediately.
3. Dip the fish fingers into a bowl of cornstarch and shake the excess powder off (this will help the batter stick better to the fish). Dip the fish into the batter and carefully hold over the oil for about three seconds before letting go to avoid it from sticking to the bottom. Cook for about 3 minutes or until golden brown. Drain and season with salt and pepper. Serve aside the hot chips.
Originally featured in Summer Party Bites