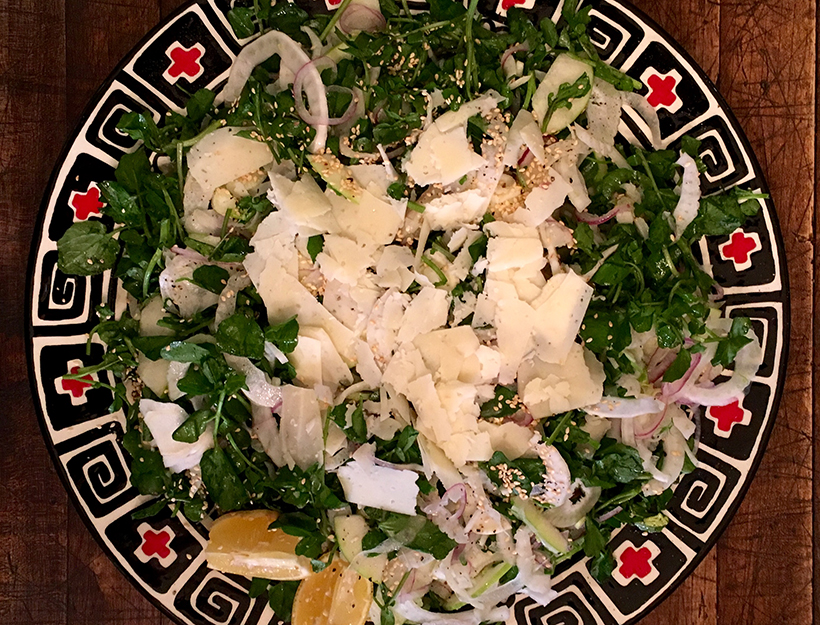 Soaking the sliced onions in salted water helps mellow them out a bit, so they add just enough bite to balance the fennel and apple. Serve this as a light lunch or as a side for dinner.
1. Toast the sesame seeds in a dry pan until lightly browned and fragrant.
2. Squeeze half the lemon into a bowl and add a cup of water.
3. Peel and slice the onions very thinly and toss them with a little salt in a bowl and set them aside while you prepare the rest of the salad.
4. Thinly slice the fennel and apple, put them in the lemon water to prevent browning, and give them a stir.
5. Rinse and pick the watercress, discarding any tough stems.
6. Tip your salted onions into the bowl with the fennel and apple, swirl it all around with your hands, and then drain it well in a sieve.
7. Mix all your salad ingredients together and dress them with hazelnut oil, the juice of the other half of the lemon, a little bit of salt, and a lot of black pepper.
8. Sprinkle the sesame seeds over your salad and shave a generous amount of cheese on top.
Originally featured in The Brilliant Makeup Artist Dick Page…Cooks!