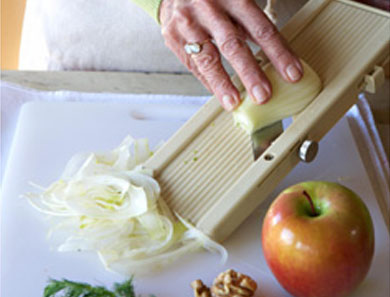 Fennel, Apple, and Walnut Salad
"Here's a sparkling salad that makes superb use of that one third or so of a plump fennel bulb that you couldn't consume in one sitting."
1. Remove the coarse outside rib of the fennel bulb and trim off the stalk, saving the leaves. Trim the root end so the bulb stands firmly, and cut very thin slices with a sharp knife. If you have a mandoline, by all means use it.
2. Core the apple and cut it into thin slices, leaving the peel on.
3. Mix together the dressing ingredients, taste, and adjust as you see fit. Pour the dressing over the fennel and apple slices with the walnuts, broken in half, and some of the fennel leaves chopped, and toss everything together. Pile onto a salad plate, and top with a few more fennel leaves.
Excerpted from The Pleasures of Cooking for One by Judith Jones. Copyright © 2009 by Judith Jones. Excerpted by permission of Knopf, a division of Random House, Inc. All rights reserved. No part of this excerpt may be reproduced or reprinted without permission in writing from the publisher.
Originally featured in Cooking for One