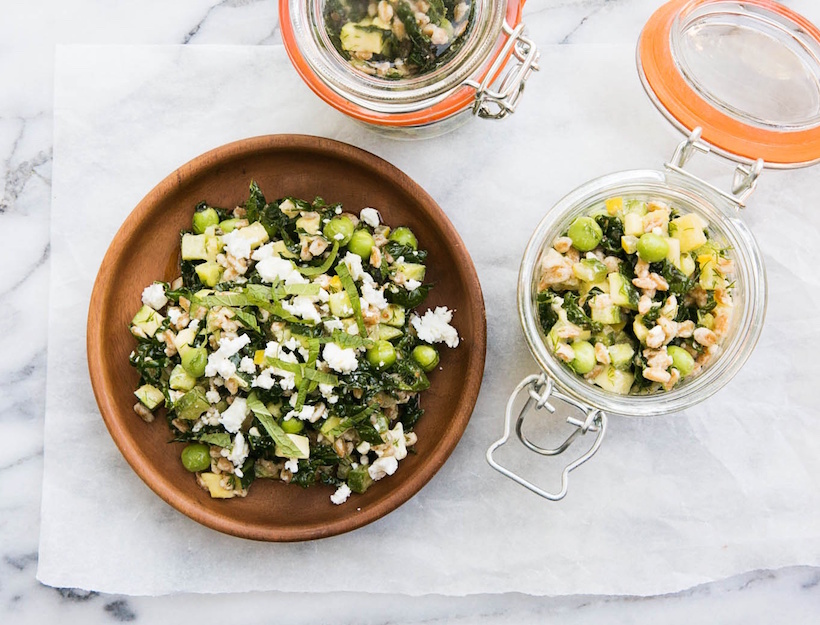 Farro Salad with Preserved Lemon and Herbs
A veggie-packed grain salad is perfect for traveling: It's filling and healthy, and it actually tastes better at room temperature. We love the added brightness of preserved lemon rind, but don't stress if you can't find it—this salad is delicious without. Add some grilled chicken or salmon for extra protein.
1. Thinly slice the kale into ribbons and combine with farro, shelled peas, zucchini, cucumber, feta, and Aleppo pepper in a large bowl.
2. Pour in red wine vinegar and olive oil and toss to coat all ingredients.
3. Use a sharp knife to cut the flesh from the rind of your preserved lemon. Discard the flesh and cut the rind into a very small dice (about ⅛ inch).
4. Fold preserved lemon rind, chopped mint, and chopped dill into the farro mixture.
5. Season to taste with salt and pepper, and add more olive oil or red wine vinegar if needed.
Originally featured in The Perfect Travel Meal