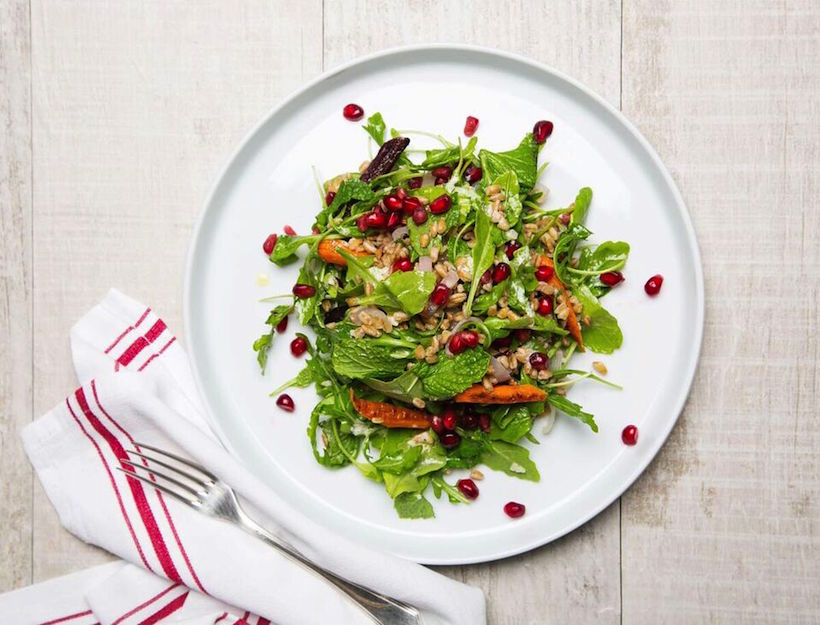 Farro, Roasted Carrot, and Pomegranate Salad
This is a perfect seasonal salad full of caramelized veggies and autumnal flavors. Filling enough for a solo lunch, it also scales easily to make a stunning side dish for a holiday potluck or dinner party.
1. Cook the farro according to package instructions and preheat the oven to 450°F. Toss the carrots and shallot with a little olive oil, salt, and pepper and place on a baking sheet. Roast in the oven for 25 minutes, flipping the vegetables after 15 minutes to make sure they brown evenly on both sides. When the farro is cooked, remove to a plate or baking sheet and cool to room temperature.
2. To make the dressing, whisk together the tahini, lime juice, yogurt, and minced shallot. Slowly pour in the olive oil, whisking to emulsify, and season to taste with salt and pepper.
3. Cut the roasted carrots into 1-inch pieces and thinly slice the caramelized shallot. Place in a bowl with the cooked farro, arugula, mint, and half the pomegranate seeds. Toss with the dressing to taste and add salt and pepper if desired. Garnish with remaining pomegranate seeds and drizzle over more of the dressing if desired.
Originally featured in Seasonal Ingredient: Pomegranate