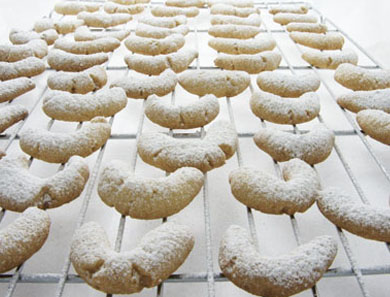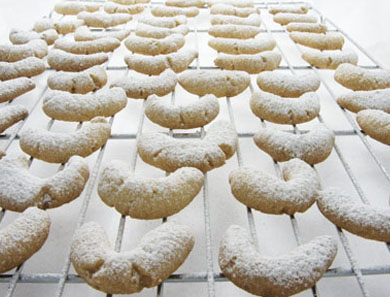 Evi's Vanillekipferl
Gwyneth's neighbor in London, Evi, shares a very old and secret Viennese cookie recipe. We dare you not to eat them all in one day.
1/3 cup superfine sugar
1/3 cup ground almonds
1 cup (2 sticks) unsalted butter, at room temperature
2 1/2 cups self-rising flour*
pinch of salt
1/4 cup icing sugar
* If you can't find self-rising flour, simply measure out one cup unbleached, all-purpose flour and remove two teaspoons. Add a half teaspoon salt and one-and-a-half teaspoons baking powder.
1. Mix the superfine sugar, almonds, butter, flour and salt together in a bowl with a wooden spoon or your hands. Let the dough chill in the refrigerator for 20 minutes.
2. Roll the dough into half-inch thick ropes and cut into quarter-inch thick slices. Shape each slice into a small crescent and place on ungreased cookie sheets. You can space them quite close together as they don't expand that much. Let the cookies rest for half an hour.
3. Meanwhile, preheat your oven to 350ºF. Bake the cookies for 12 minutes (until they're barely browned), rotating the trays after six minutes. Move the cookies to a wire rack and let cool for ten minutes before sifting over the icing sugar. Allow the cookies to cool completely before eating (if you can).
Originally featured in The Cookie