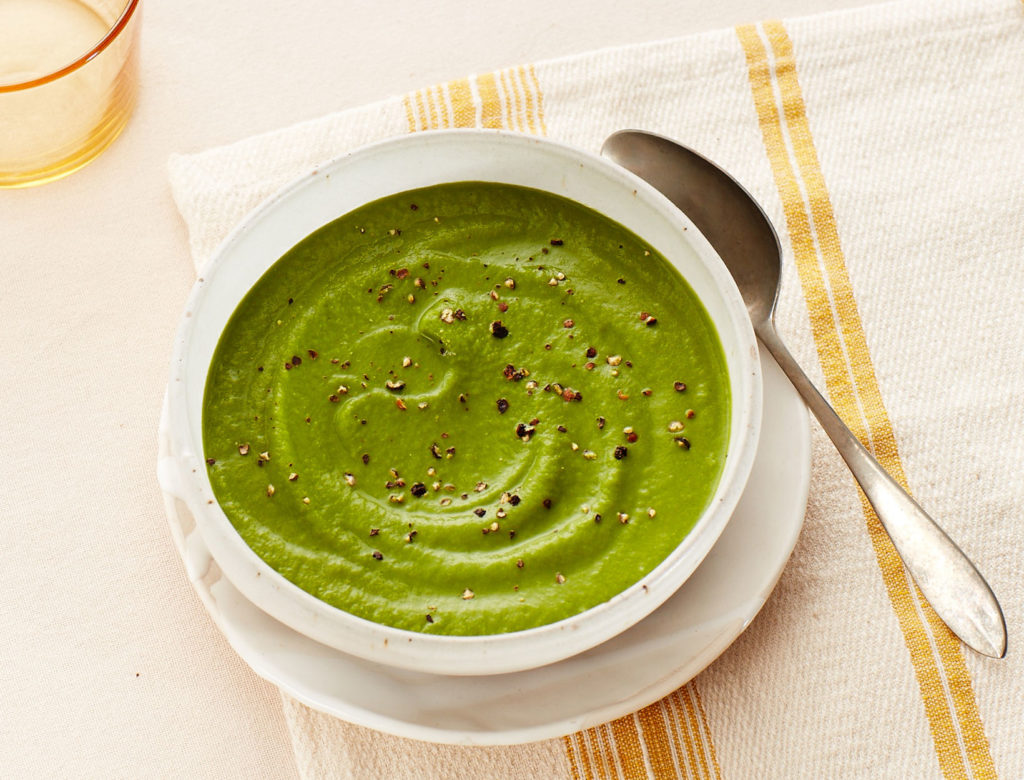 The idea behind this soup: how to eat a salad without eating a salad. We packed it full of green veggies and savory alliums. The combination of greens is totally flexible, so feel free to use up your leftover collard greens in place of the Swiss chard. The optional addition of miso and nutritional yeast adds a layer of umami that's a little reminiscent of the broccoli Cheddar soups of our childhood, but it tastes delicious without, so choose your own soup adventure.
1. Add about 2 tablespoons of the olive oil to a large pot. Then add the onions, leeks, celery, and a pinch of salt and cook over medium heat for about 10 minutes or until translucent and tender. You're just sweating the vegetables, not browning them. Add the garlic and cook for another few minutes, until tender and fragrant. Add the broccoli and stock and increase the heat a bit until the broth is simmering. Once the broccoli is just fork-tender, add both bunches of greens and cover. Cook for another 5 to 10 minutes until the greens are completely wilted. Turn off the heat.
2. Blend the soup either carefully in a few small batches in a regular blender or with a handheld immersion blender directly in the pot off of the heat. If using the miso and nutritional yeast, add just before blending. Once the soup is blended to your desired consistency (you can go super smooth or keep it a bit chunky and brothy if you like), taste and adjust for seasoning. The assertive savory flavor can handle a good amount of salt and the heat from the black pepper is nice, so don't be shy. Ladle into bowls and serve.
Originally featured in The Annual New Year Detox