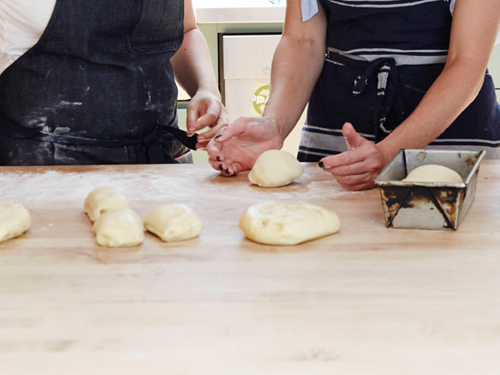 Chef Zoe Nathan of Huckleberry in LA's recipe for dough is a total game-changer, and a great addition to the repertoire. We tried it out on the goop Cookbook Club.
1. To mix with a food processor, pulse the flour, sugar, baking powder, and salt once to blend. Add the butter to the work bowl and pulse about three times until pea-size pieces form. Pour the water over the flour mixture and pulse another three times until the dough is only just starting to come together.
To mix by hand, combine the flour, sugar, baking powder, and salt in a very large bowl. Stir to blend. Add the butter, working it between your fingertips until the pieces are pea- and lima bean-size. Add the water and lightly toss to distribute.
2. The dough should be shaggy, dry, and clumpy. Dump it onto a clean work surface to bring the dough together by hand. (Do not flour the counter, as you do not want to add any more flour to the dough.)
3. Begin by firmly pressing the entire surface of the dough with the heel of your palm. Toss and squeeze the dough to redistribute the wet and dry patches. Repeat, pressing thoroughly again with the heel of your palm, and continue pressing, tossing, and squeezing until the dough begins to hold together. But be sure not to overwork the dough! It should stay together but you should still see pea-size bits of butter running through.
4. Press the dough into a disc ¾ in/2 cm thick, wrap tightly in plastic, and refrigerate for at least 1 hour, or freeze for up to 1 month.
5. When you're ready to use the dough, if refrigerated for longer than 1 hour, allow the dough to warm up at room temperature for a few minutes. If frozen, thaw in the refrigerator overnight before shaping. The dough should feel cold to the touch but malleable. Never allow the dough to become too soft or warm. Chill as needed while working.
Originally featured in The goop Cookbook Club: Huckleberry