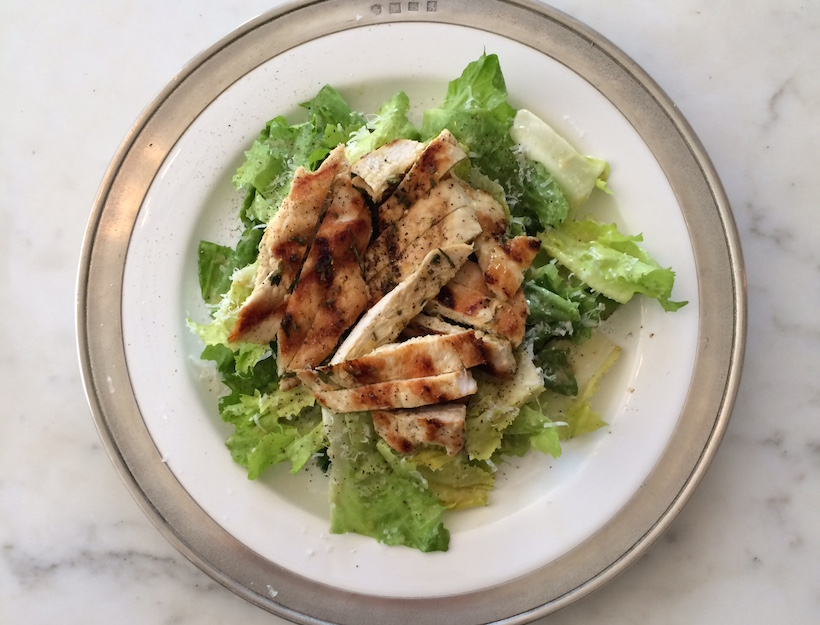 Escarole Caesar Salad with Grilled Chicken
When escarole is in season, its slightly bitter leaves are the perfect green for an otherwise classic Caesar salad. If you don't have time to marinate the chicken, simply pour the marinade over the chicken while it rests—you'll still get great flavor.
2 cups washed and roughly torn escarole
for the chicken:
1 chicken cutlet
grated zest and juice of ½ lemon
1 teaspoon chopped rosemary
1 teaspoon chopped thyme leaves
1 small garlic clove, finely minced
salt
2 tablespoons olive oil
for the dressing:
1 teaspoon Dijon
1 teaspoon vegenaise
1 small garlic clove, very finely minced
2 finely chopped anchovies + extra for garnish (optional)
juice of ½ a lemon
1/3 cup olive oil
¼ cup finely grated parmesan + extra for garnish
salt and pepper
1. Combine the chicken, lemon zest, lemon juice, rosemary, thyme, garlic, salt, and 2 tablespoons olive oil in a bowl. Cover and let marinate at room temperature for 20 minutes.
2. To make the dressing, whisk together Dijon, vegenaise, garlic clove, anchovy, and lemon juice. Slowly pour in the olive oil, whisking constantly to emulsify. Add ¼ cup parmesan and season to taste with salt and pepper.
3. Heat a grill pan over medium-high, and cook the chicken until it has nice grill marks and is firm to the touch (about 3-4 minutes per side). Remove to a cutting board to rest before thinly slicing.
4. Toss escarole with dressing, top with grilled chicken, and garnish with extra parmesan cheese and cracked black pepper.
Originally featured in Seasonal Ingredient: Escarole