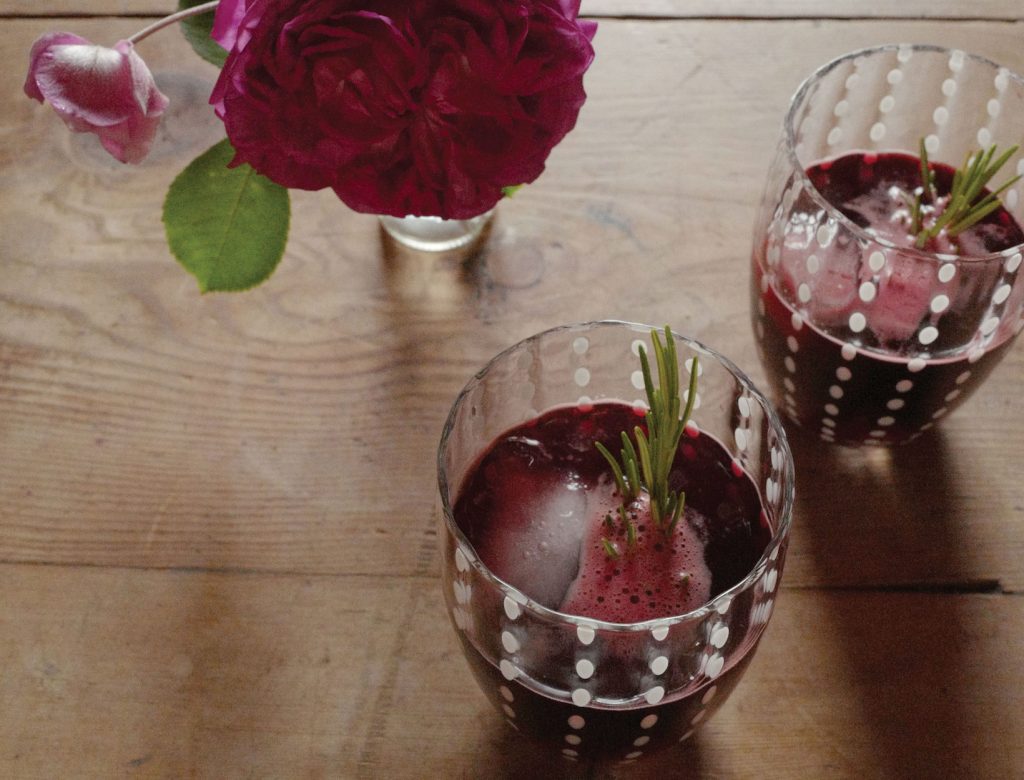 Elderberry Syrup and "Fizz"
"For the first few years I lived on the farm, I was really into making elderflower cordials from the blossoms every June. But then I noticed that come September, the same trees in my backyard had plump-looking berries on them where the flowers had been. Upon Googling them, I discovered elderberry syrup was traditionally used as a natural substitute for cough medicine. As we luckily don't get ill that often, I was excited to discover the syrup can also be used as a flavoring for fizzy water or even a gin cocktail."
For the syrup:
1. Rinse the berry clusters and methodically strip them from their stems, which smell rank.
2. Place the berries in a large pot with the star anise and crush with a potato masher.
3. Add the water and bring to a boil.
4. Lower the head and simmer for 10 minutes, mashing the fruit several more times.
5. Strain the juice through a damp jelly bag and let it hang until cool; then squeeze the bag to extract the ramining juice. You should have about 3 cups.
For the "fizz":
1. Pour 2 tablespoons of Elderberry Syrup into a glass over crushed ice.
2. Add ¼ teaspoon freshly squeezed lemon juice, and top up with ½ cup of sparkling water.
3. Rub the rim with a twist of lemon peel and then drop it in as a garnish.
Recipe excerpted from Farm from Home. Copyright © 2018 by Amanda Brooks. Published by Blue Rider Press, an imprint of Penguin Random House LLC.