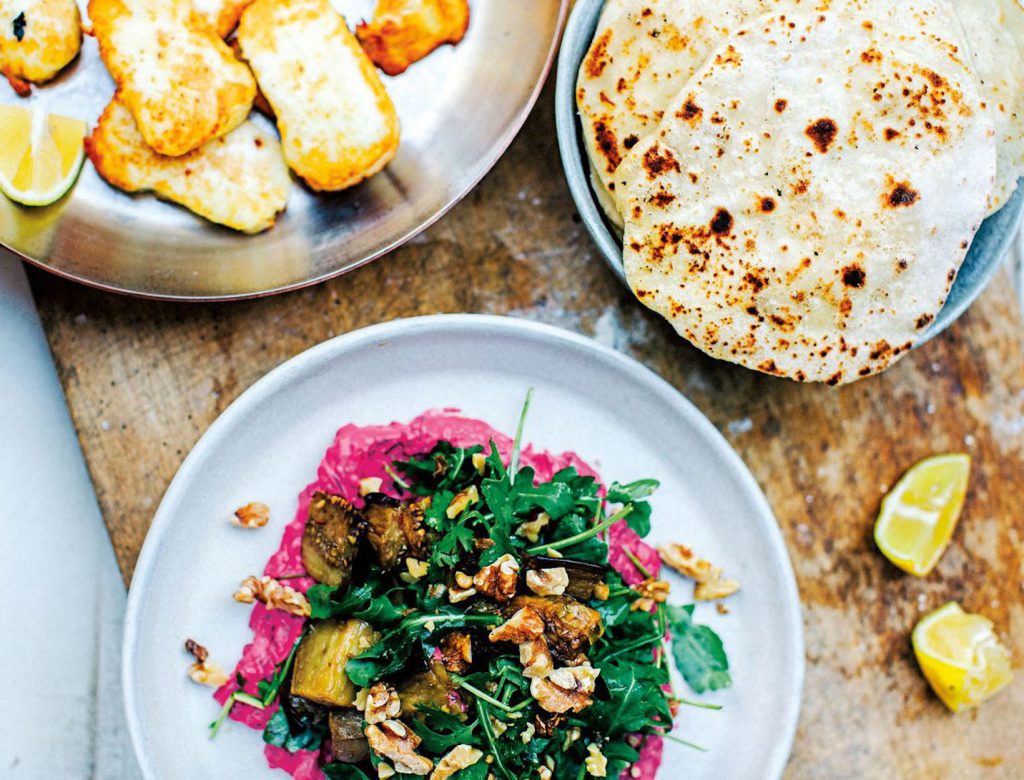 Eggplant with Beet Tzatziki
This stunner was a fan favorite of the goop Cookbook Club—and the easiest to make, too. In the book, McKinnon includes a recipe for yogurt flatbreads, but we opted for pita from the supermarket, which worked just as well. We also used little Fairy Tale eggplants because they were in season, so if you decide to switch up your eggplant variety, just adjust the cooking time accordingly.
1. Preheat the oven to 400°F.
2. For the beet tzatziki, place the beets in a small saucepan and cover with water. Bring to a boil, cover, and simmer for 20 to 25 minutes or until the beets are tender. Drain and leave to cool, then finely grate.
3. Toast the cumin seeds in a dry frying pan until fragrant, then add to a bowl along with the beets and remaining tzatziki ingredients. Season with salt and pepper, mix together well, and transfer to the refrigerator to chill.
3. Peel strips of skin from the eggplants, from top to bottom, so it leaves a stripy pattern. Cut the eggplants into 1-inch (or 2.5-centimeter) cubes and arrange on a large baking tray in a single layer. Drizzle with 2 to 3 tablespoons of olive oil and roast for 25 to 30 minutes until soft and golden. Remove from the oven and season with salt.
4. When almost ready to serve, brush each side of the haloumi with olive oil and cook on a griddle pan, large frying pan, or barbecue. Cook for 1 to 2 minutes on each side until soft and golden.
5. To serve, spread the beet tzatziki generously over a serving platter. Combine the eggplant with the spinach, walnuts, and herbs and spoon it over the tzatziki. Drizzle with olive oil and season with a pinch of salt and pepper. Serve with the haloumi, flatbreads, and lemon wedges on the side.
From Neighborhood by Hetty McKinnon © 2016 by Hetty McKinnon. Photography © 2016 by Luisa Brimble. Reprinted in arrangement with Roost Books, an imprint of Shambhala Publications, Inc. Boulder, Clorado.