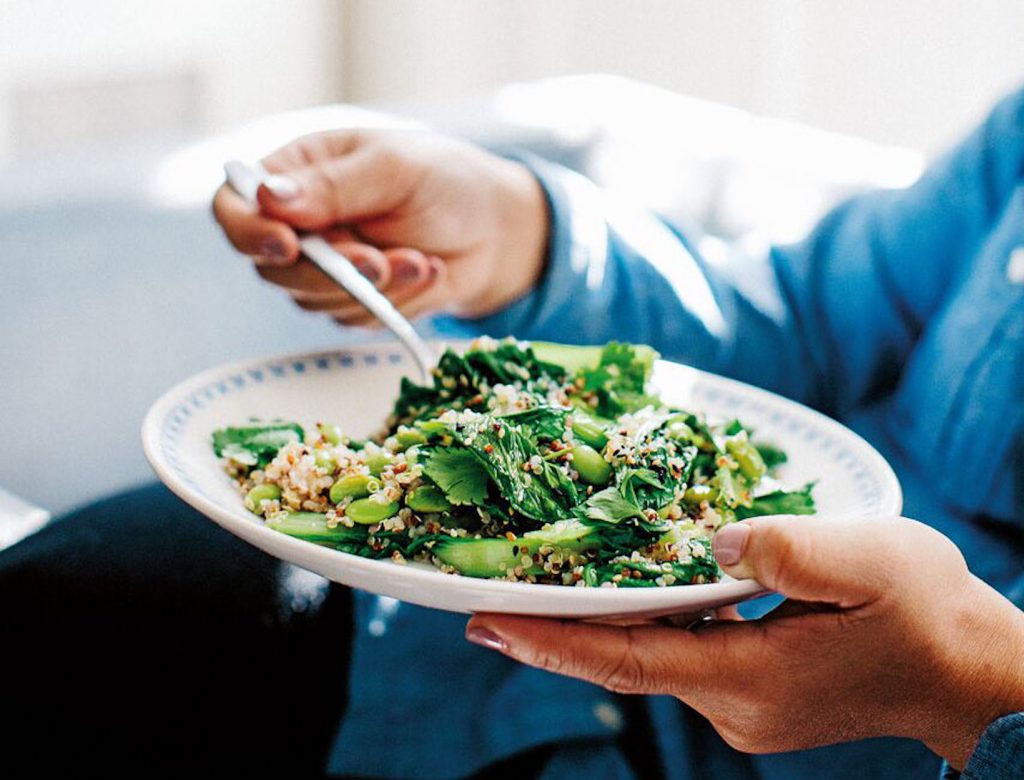 Edamame Beans with Baby Bok Choy, Quinoa, and Honey-Ginger Dressing
This is a great example of a gluten-free salad that won't leave you feeling like you're missing out. The quinoa is super hearty but neutral enough to let the flavors of the veggies and the sweet savory dressing shine. You could also use this same method and dressing with just about any stir-fry-friendly vegetable, like green beans or broccoli.
1. To make the dressing, using a microplane or the finest setting on a box grater, finely grate the ginger and garlic. Place in a bowl with the honey, vinegar, mirin, and oils and whisk together. Add a pinch of salt, taste, and adjust the seasoning if required.
2. Add the stock powder, quinoa, a pinch of salt, and 3 cups of water to a saucepan. Bring to a boil, then reduce to a simmer and cook for 15 to 20 minutes, or until all the liquid has been absorbed and the quinoa is translucent. Turn off the heat and leave the quinoa to sit, uncovered, for 10 minutes to allow the grains to separate and dry out.
3. Heat the oils in a large frying pan or wok. Add the edamame beans with a pinch of salt and a splash of water and stir-fry for 3 to 4 minutes, then throw in the bok choy leaves and stir-fry for a further minute, until the leaves are just wilted but still bright green and the edamame is tender.
4. Combine the edamame beans and bok choy with the quinoa and season with salt and white pepper. Add the honey-ginger dressing and toss well. To serve, scatter over the sesame seeds and cilantro leaves.
From Neighborhood by Hetty McKinnon © 2016 by Hetty McKinnon. Photography © 2016 by Luisa Brimble. Reprinted in arrangement with Roost Books, an imprint of Shambhala Publications, Inc. Boulder, CO.