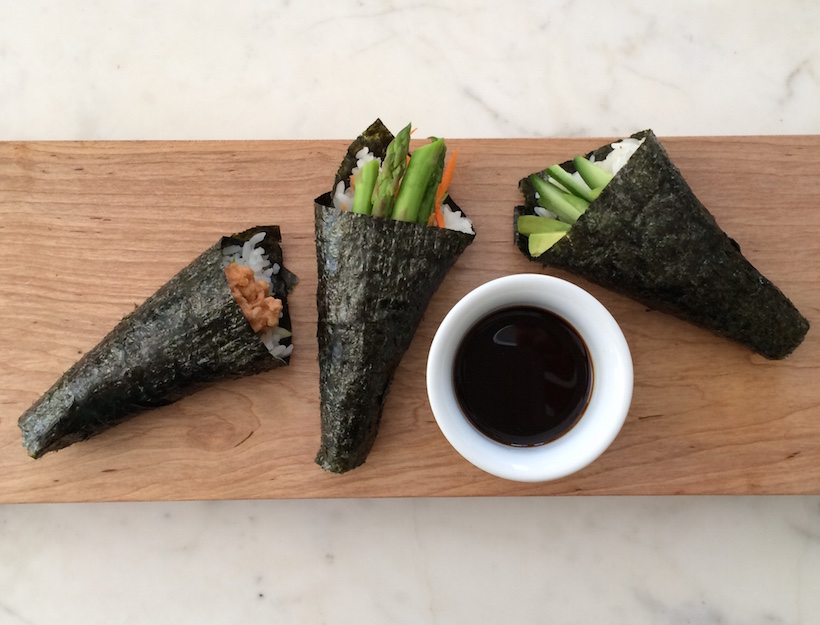 Making hand rolls may sound intimidating, but if you buy cooked rice and wasabi from a grocery store that makes its own sushi, they're actually quick and easy.
1. Preheat the oven to 350°F, brush the salmon with a little olive oil, and season lightly with salt and pepper. Place on a small baking sheet and cook in the oven for 10 minutes, or until cooked through. Remove and let cool to room temperature.
2. When the salmon is cool, remove the skin and use a fork or your fingers to break it into small pieces (being sure to remove any bones). Mix in a small bowl with half the sliced scallion, the soy sauce, sesame oil, vegenaise, and sriracha.
3. When ready to roll, place the 4 nori sheets on a flat surface and spoon ¼ of the rice near one edge of each sheet of nori. Wet your fingers and press the rice to spread it into an even square over half the nori sheet.
4. Spread some wasabi on the rice, then sprinkle with toasted sesame seeds and remaining sliced scallion.
5. Divide the salmon mixture among the 4 hand rolls, placing it carefully down the center of each square of rice.
6. Roll up the nori, using a little water to make the ends stick if necessary.
7. Serve with extra wasabi and soy sauce for dipping.
Originally featured in Quick Lunch: Easy Hand Rolls