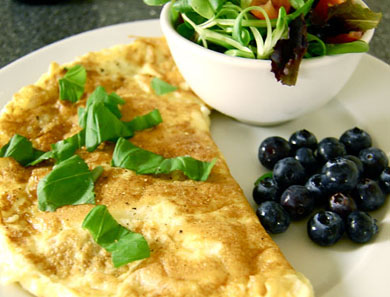 Easy, Cheesy Omelette
One of the simplest things to make, this easy, cheesy omelette is great for breakfast and satisfying any time of day.
6 eggs
2 handfuls of any cheese you like (we used cheddar and goat) cubed or grated
salt & pepper
2 tabs of butter
a few basil leaves or any fresh herb you like (optional)
2 handfuls of blueberries for garnish (optional)
1. Break eggs equally into two separate bowls. Season with salt and pepper.
2. Meanwhile, place frying pan with tab of butter over medium heat.
3. Once butter melts, add one bowl of eggs. Let simmer for about 30 seconds.
4. Add cheese. When the eggs become firm (about another 30 seconds) fold into an omelette. Flip. Heat for a few moments more until cooked through, and slide onto a plate.
5. Garnish with fresh herbs,  a handful of blueberries and our Super Simple Side Salad.
Originally featured in Beyond Valentine's