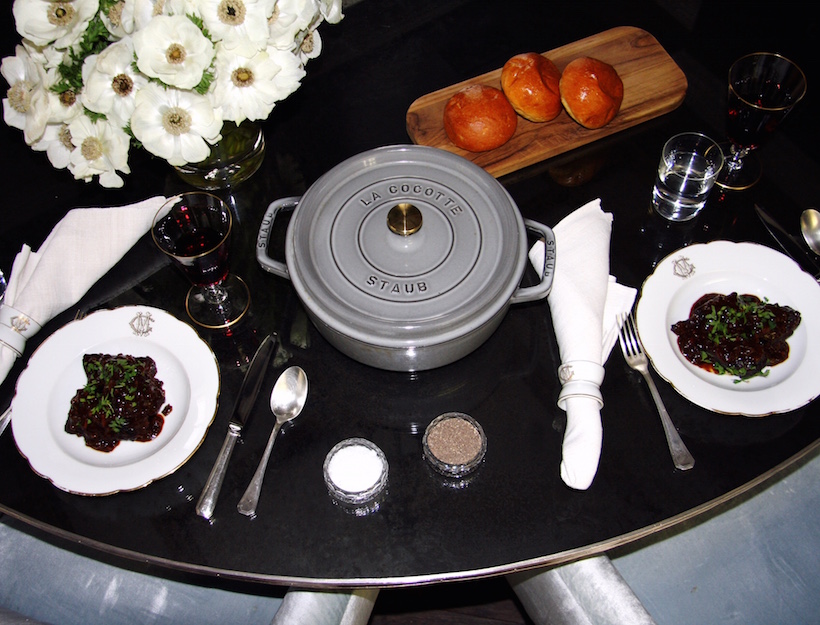 This is sort of a cheat's short rib recipe, as it doesn't involve any straining of vegetables or reducing of sauces—who has time for that, anyway? The prep is fairly simple, and the end result is rich and tender, but it does need to cook for three hours, so be sure to plan ahead. These are great on their own, but if you have time, serve them over mashed potatoes or polenta.
1. Preheat the oven to 325°F.
2. Dry the short ribs well with a paper towel (this helps them brown rather than steam) and season generously with salt and pepper. In a medium Dutch oven, heat 1 tablespoon vegetable oil over medium-high heat, then sear the short ribs on all sides. Depending on the pan, you may have to do this in batches, but be sure not to rush this step, as it is where most of the flavor for the dish is developed. When the ribs are browned, remove them to a plate, add the diced vegetables to the pot, and sauté over medium heat for 5 minutes. When the veggies are beginning to brown, add the minced garlic, tomato paste, and salt and sauté for 1 more minute. Add the flour and cook for 2 to 3 minutes, stirring with a wooden spoon to make sure it doesn't burn. Next, add the balsamic vinegar and red wine, turn up the heat to medium-high, and cook for about 5 minutes, or until all the alcohol has evaporated. Add the chicken stock, the herbs, and the seared short ribs, and bring the mixture up to a simmer. Make sure that the short ribs fit snugly in the pot and the liquid almost covers them—if the pot is too big, the sauce will reduce too much in the oven and burn. Cover with parchment paper and the lid and braise in the oven for 3 hours.
2. Serve right away or cool and then store in the fridge for up to 2 days. Garnish with chopped parsley and serve with horseradish cream on the side.
3. To make the horseradish cream, combine ingredients in a small bowl.
Originally featured in Date Night Dinners