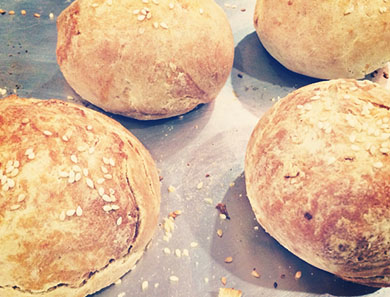 Easiest Gluten-Free Buns
These are simple, hassle-free gluten-free buns that call for just a handful of ingredients that you probably already have in your pantry.
for dough
3 cups gluten-free flour mix (Thomas Keller's Cup4Cup brand is our favorite)
1½ cups milk
1 packet (2¼ teaspoons) dry active yeast
2 tablespoons butter, melted
1 tablespoon apple cider vinegar
1 egg plus 1 egg white, beaten
pinch of salt
pinch of sugar
for topping
1 egg, beaten
¼ cup sesame seeds
1. Heat the milk on the stove until warm to the touch. Add the packet of yeast, mix until dissolved, and let it sit for about 5 minutes.
2. Place the rest of the ingredients in the bowl of a mixer. Add the milk-yeast mixture. Mix on medium speed for about 2 minutes until the dough smooths out.
3. Place the ball of dough on a lightly greased baking sheet. Cover with a warm, damp towel and let sit on the countertop for about an hour.
4. Form the dough into palm-size balls and place on baking sheet. Flatten lightly with the palm of your hand. Using a brush or a paper towel, dip into the egg mixture and wet the top of each bun. Sprinkle with sesame seeds.
5. Bake at 350°F for about 50 minutes, until cooked through and beginning to brown.