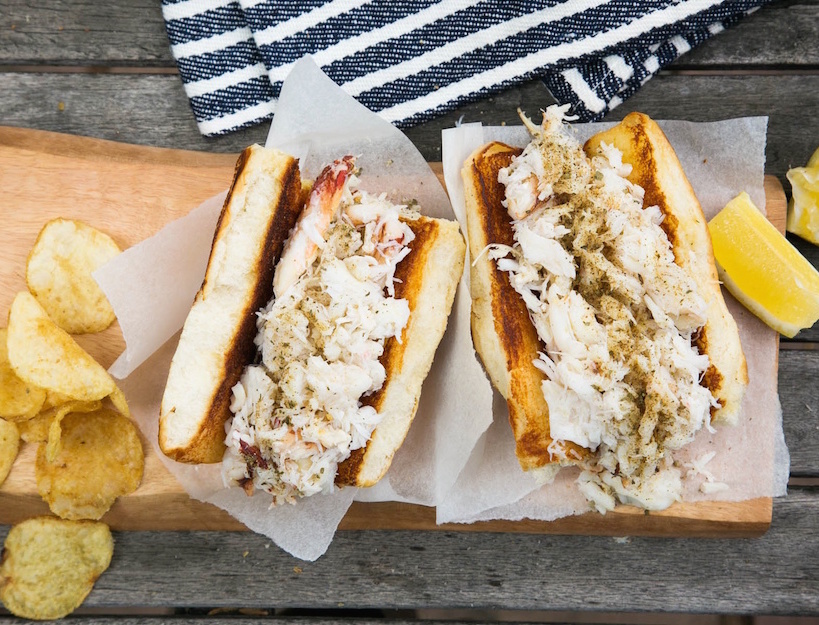 Dungeness Crab Roll
This recipe is exactly what a crab roll should be: Mostly crab, a touch of butter, mayo, and lemon and a little seasoning salt for good measure. Don't bother making these if you can't get your hands on super fresh crab.
2 split-top brioche buns
4 tablespoons butter, divided
mayo, to taste
8-ounce Dungeness crab meat
K&C secret seasoning blend
1 lemon
for the K&C seasoning blend:
2 tablespoons celery salt
2 tablespoons ground oregano
1 tablespoon ground basil
1 tablespoon garlic powder
1 tablespoon salt
½ teaspoon black pepper
1. Melt 2 tablespoons butter in a cast iron skillet or panini press, and toast buns on each side until golden brown.
2. Spread a small amount of mayo on each side of the bun.
3. Fill each roll with 4-ounces of crab meat.
4. Melt the remaining 2 tablespoons butter, drizzle over the rolls, add a dash of K&C seasoning blend and a squeeze of lemon.
Originally featured in Dungeness Crab Rolls & Lobster Pot Pies