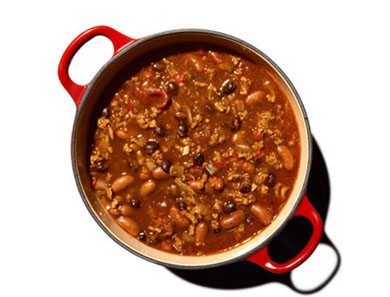 Named for the gorgeous pint of Guinness it contains, this thick, meaty chili is ideal to make on a lazy Sunday as it takes time to simmer.
1. Heat half of the olive oil over medium-high heat in a large sauté pan. Add the beef, salt and pepper and cook, stirring, until browned and the juices have evaporated, about 15 minutes.
2. Meanwhile, heat the remaining olive oil over medium-low heat in a heavy soup pot and add the garlic, onion, bell pepper, carrot, cumin, coriander and chili powder. Cook the mixture, stirring here and there, for 15 minutes or until softened.
3. Add the beef to the vegetable mixture.
4. Pour half a cup of water into the meat pan, bring to a boil, scrape up all the brown bits and pour everything into the chili.
5. Add the tomatoes, breaking them up with the back of a wooden spoon, the chipotle and adobo, and the Guinness and stock. Bring the mixture to a boil, lower the heat and simmer for half an hour.
6. Add the tomato puree and beans, season with salt and pepper, and let it simmer away for 1 1/2 hours.
Originally published on GQ.