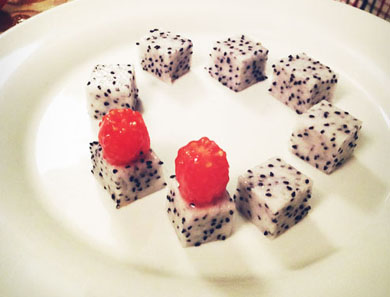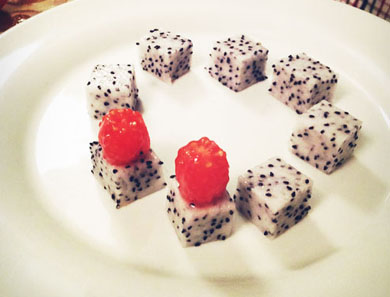 Dragon Fruit & Tomato "Caviar"
José Andrés shows us how to make a wild-looking dragon fruit and tomato appetizer. This is a impressive starter to make for guests.
1. Using a sharp knife, slice off the top and bottom of each plum tomato.
2. Locate the fleshy dividing wall of one segment inside the tomato. Slice alongside the dividing wall and open up the flesh of the tomato to expose the seeds.
3. Remove the seeds and their pulp by slicing around the core of the tomato. Set the seed sacs aside. Your aim is to keep the seeds and their surrounding gel intact to create tomato seed "fillets" or "caviar" that are separate from the firmer tomato flesh. You should have about 8 fillets. Reserve remaining tomato flesh for another use.
4. Place one set of tomato-seed fillets on top of each cube of dragon fruit.
5. In a small bowl, mix the lemon juice, half the lemon zest, the oil, and vinegar to make the dressing.
6. Drizzle on top of the tomato "caviar".
7. Sprinkle with sea salt, the remaining lemon zest, and the mint [or dill]. Serve immediately.
José's tips: Ideally, you should use a microplane for removing the zest of the lemon. If you don't have a microplane, try a very fine grater. Also, if you want to save time, you can use cherry tomatoes instead of the tomato seeds.
Recipe courtesy of José Andrés.
Originally featured in Dinner with Jose Andres