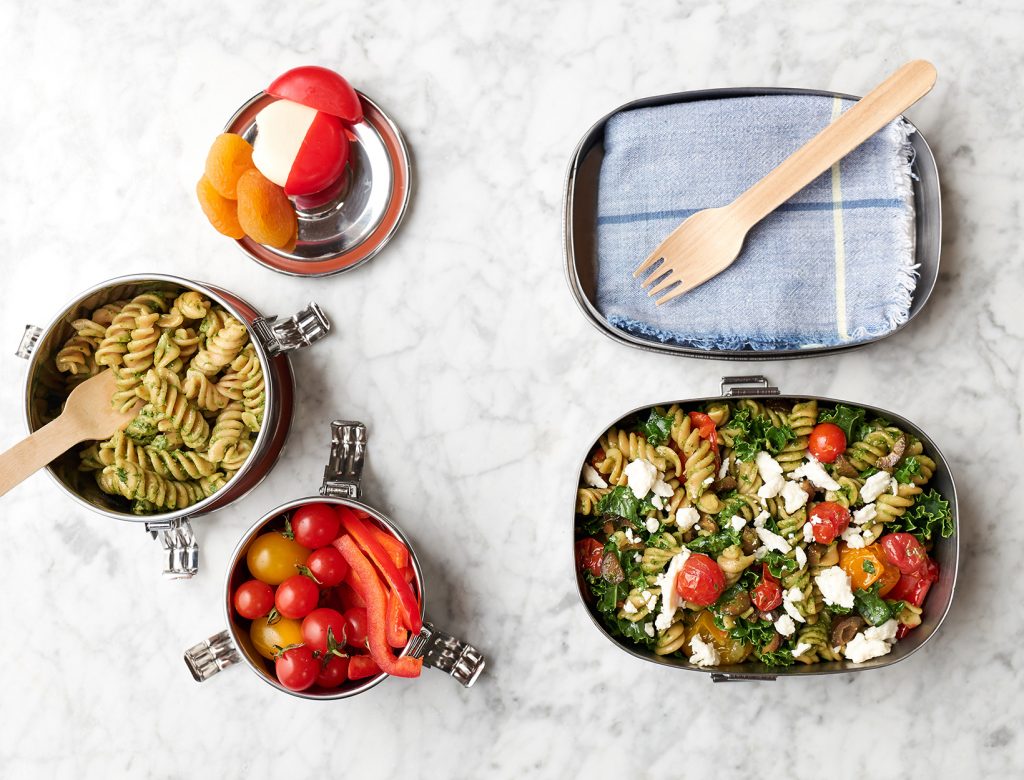 Double-Duty Kale Pesto Pasta
In this two-way take on a classic pesto pasta, we snuck in a bunch of kale to up the nutrition ante. Kids get a yummy gluten-free pesto pasta with crudités and mom/dad gets a veggie-packed pasta salad that any coworker would envy.
for the pasta:
8 ounces gluten-free pasta (we like chickpea rotini)
2 cups cherry tomatoes
1 red bell pepper, halved
2 tablespoons olive oil, divided
salt
1 cup tightly packed curly green kale leaves (about ½ bunch)
1 tablespoon lemon juice
¼ cup roughly chopped black olives
2 tablespoons feta cheese, optional
for the pesto:
1 cup tightly packed curly green kale leaves (about ½ bunch)
1 cup basil, roughly chopped
2 tablespoons sunflower seeds
2 tablespoons pumpkin seeds
1 small clove garlic
⅓ cup olive oil
¼ teaspoon kosher salt
¼ cup grated Parmesan cheese
THE PREP:
1. Preheat the oven to 400°F and bring a large pot of salted water to a boil on the stovetop. Cook the pasta according to the package directions; drain and let cool slightly.
2. Meanwhile, make the pesto: De-rib, wash, and dry the entire bunch of kale, reserving half for the grown-up pasta salad. Using a blender, food processor, or immersion blender, blitz together 1 tightly packed cup of roughly torn kale leaves with the next 6 ingredients until smooth. Stir in the Parmesan and set aside.
3. Place 1 cup of the cherry tomatoes and a red bell pepper half on a parchment-lined baking sheet. Toss with 1 tablespoon of the olive oil and a large pinch of salt. Roast in the oven until the tomatoes are blistered and the pepper is just tender, about 15 minutes.
4. Cut the remaining red pepper half into strips and set aside.
FOR THE GROWN-UP:
1. Measure out 1 tightly packed cup of the cleaned kale leaves and finely slice them. (Reserve any remaining kale for another use.) Toss the kale in a large bowl with the remaining 1 tablespoon of olive oil, the lemon juice, and a large pinch of salt.
2. Cut the roasted bell pepper into a large dice and add to the bowl of kale along with the roasted tomatoes, olives, feta (if using), and half of the cooked pasta.
3. Toss with about a third of the pesto and taste for seasoning.
FOR THE KID:
1. Toss the remaining cooked pasta with half of the remaining pesto. Transfer to a tiffin (or other small container) and serve with the remaining 1 cup of cherry tomatoes and the reserved red pepper on the side. (Add a piece of fruit and a frozen yogurt pack or string cheese to round out the lunch box.)
2. Reserve the remaining pesto in glass jar (or other container) in the refrigerator for another use.
Originally featured in Kids Lunches That Adults Can Get in On