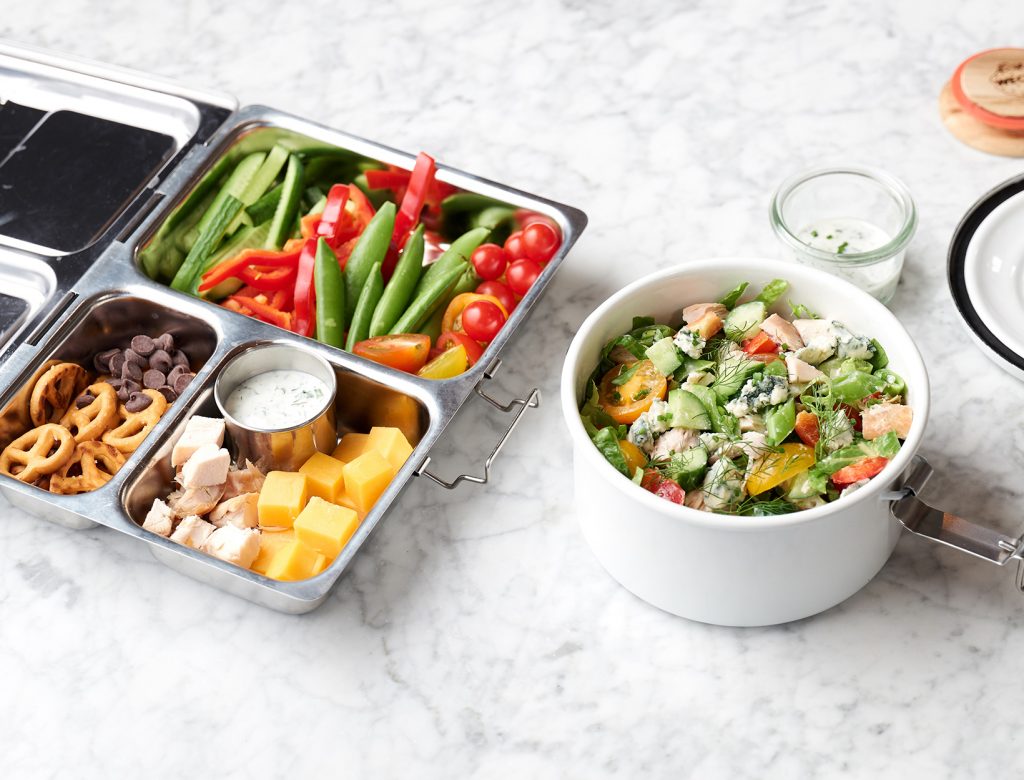 Double-Duty Chopped Salad
Kids love veggies and dip while grown-ups love a chopped salad, so with this recipe, everyone wins. Both recipes call for nearly all the same ingredients and are quick to throw together once you get in chopping mode.
THE PREP:
1. First make the dressing. Whisk all the ingredients together in a small bowl then set aside.
2. Chop both cucumbers into 2-inch sticks, set half of them aside and further chop the other half into cubes. Repeat this step for the bell pepper. Chop ½ the snap peas and halve half of the tomatoes.
FOR THE KID:
1. Arrange the cucumber sticks, pepper sticks, snap peas and tomatoes in a tiffin. Put 2 tablespoons of the ranch dip in a small container on the side. In another tiffin add 3 ounces cheddar cheese and ½ of the cubed chicken.
FOR THE GROWN-UP:
1. In a medium bowl toss the shredded romaine with the cubed cucumber and pepper, chopped snap peas, halved cherry tomatoes, crumbled blue cheese, and remaining ½ cup of chicken. Pack into a tiffin. If the dressing seems a little too thick, thin it out with a little extra lemon juice. Pack this separately as well.
Originally featured in Kids Lunches That Adults Can Get in On