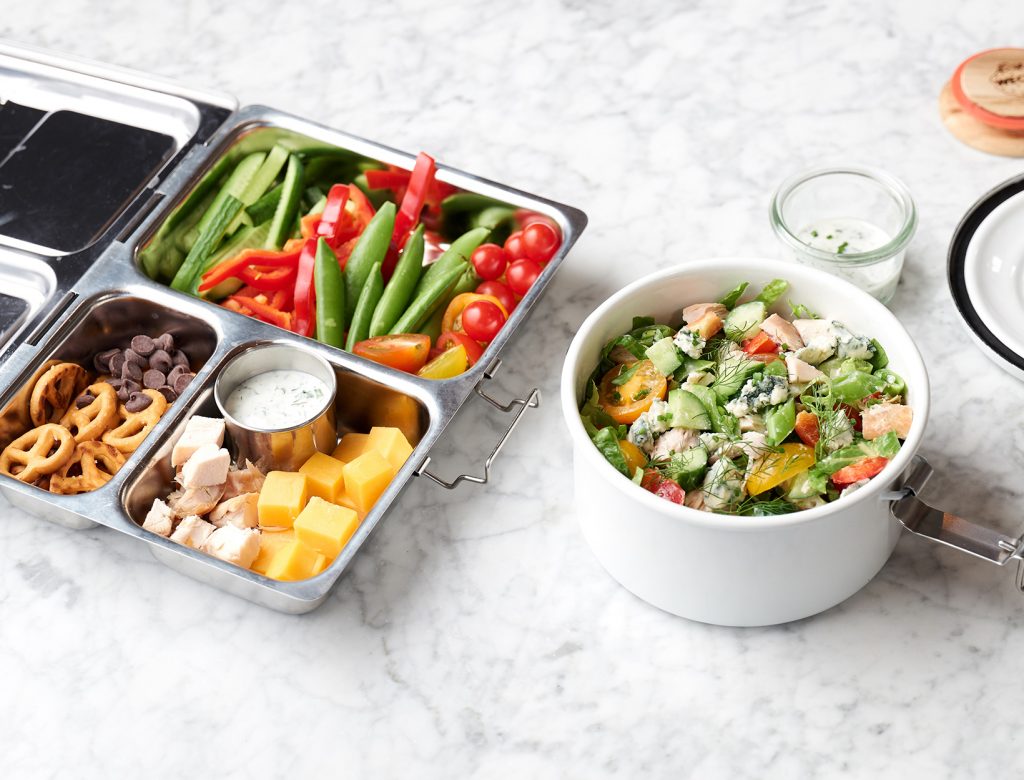 Double-Duty Chopped Salad
Kids love veggies and dip while grown-ups love a chopped salad, so with this recipe, everyone wins. Both recipes call for nearly all the same ingredients and are quick to throw together once you get in chopping mode.
2 persian cucumbers
½ red bell pepper
½ cup snap peas
12 cherry tomatoes
1 cup of cubed rotisserie chicken
3 oz piece of cheddar or jack cheese
3 oz crumbled blue cheese
1 cup shredded romaine
For the dressing:
¼ teaspoon minced dill
1 tablespoon minced chives
½ grated clove of garlic
¼ teaspoon lemon zest
1 tablespoon of mayo, homemade aioli or Vegenaise
2 tablespoons greek yogurt
2 teaspoons lemon juice
⅛ teaspoon salt
THE PREP:
1. First make the dressing. Whisk all the ingredients together in a small bowl then set aside.
2. Chop both cucumbers into 2-inch sticks, set half of them aside and further chop the other half into cubes. Repeat this step for the bell pepper. Chop ½ the snap peas and halve half of the tomatoes.
FOR THE KID:
1. Arrange the cucumber sticks, pepper sticks, snap peas and tomatoes in a tiffin. Put 2 tablespoons of the ranch dip in a small container on the side. In another tiffin add 3 ounces cheddar cheese and ½ of the cubed chicken.
FOR THE GROWN-UP:
1. In a medium bowl toss the shredded romaine with the cubed cucumber and pepper, chopped snap peas, halved cherry tomatoes, crumbled blue cheese, and remaining ½ cup of chicken. Pack into a tiffin. If the dressing seems a little too thick, thin it out with a little extra lemon juice. Pack this separately as well.
Originally featured in Kids Lunches That Adults Can Get in On