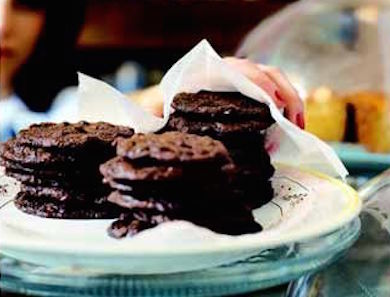 Double Chocolate Chip Cookies
This recipe is from the lovely Erin McKenna, whose Babycakes Bakery might be the best thing to happen to health conscious foodies. When we're on the sugar-free/vegan/gluten-free tip we bust out this guilt-free treat recipe and get busy.
1. Preheat oven to 325°F. Line 2 baking sheets with parchment paper and set aside.
2. In a medium bowl, mix together the oil, sugar, applesauce, cocoa powder, salt, and vanilla. In another medium bowl, whisk together the flour, flax meal, baking soda and xanthan gum. Using a rubber spatula, carefully push the dry ingredients into the wet mixture and combine until dough is formed. With the same spatula, gently fold in the chocolate chips just until they are evenly distributed throughout the dough.
3. Using a melon-baller, measure out the dough and place on the prepared baking sheets. Space the portions 1-inch apart. Gently press each with the heel of your hand to help them spread. Bake the cookies on the center rack for 14 minutes, rotating the trays 180 degrees after 9 minutes. The cookies will be crispy on the edges and soft in the center. Remove from the oven.
4. Let cookies stand 10 minutes. They're best served warm, but to save them use a spatula to transfer the cookies to a wire rack and cool completely before covering. Place in an airtight container and store at room temperature for up to 3 days.
Originally featured in Babycakes