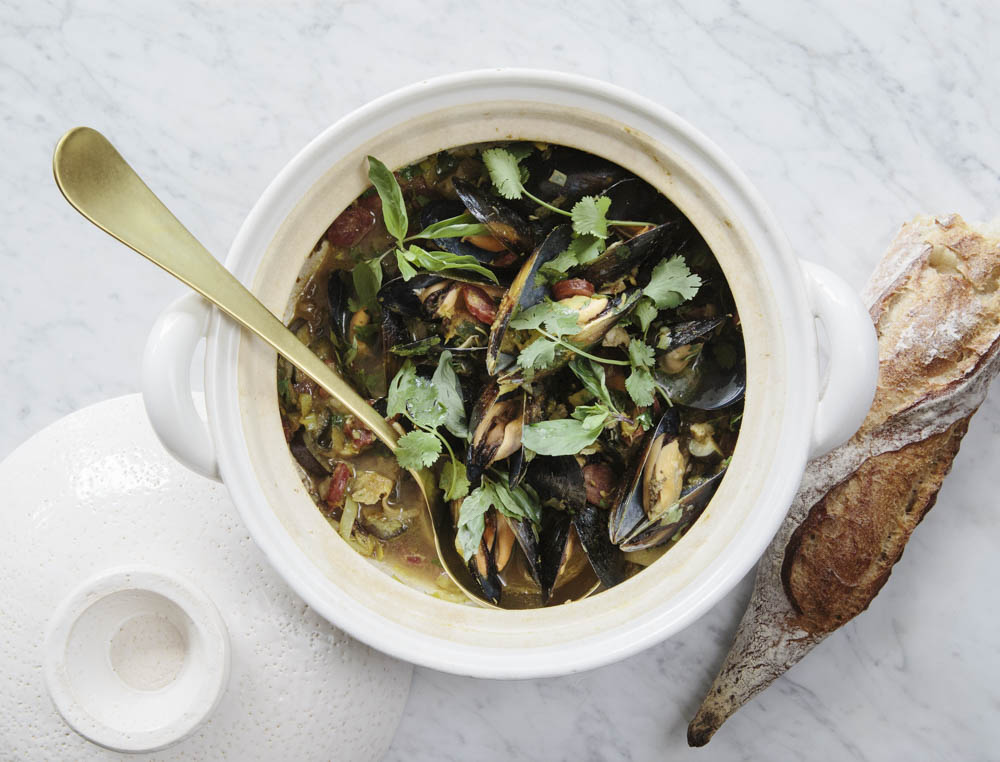 Donabe Steamed Mussels, Chinese Sausage, and Green Curry
A simplified version of a dish Tim used to serve at Otium, this recipe is full of complex flavors but comes together in about 30 minutes. Tim recommends serving with toasted baguette for dipping, but this would also be nice ladled over rice or noodles.
¼ cup olive oil
1 cup thinly sliced Chinese sausage (about 3 sausages), such as Kam Yen Jan brand
1 Chinese eggplant, cut into ½-inch pieces (about 1 cup)
2 cups roughly chopped oyster mushrooms
1 small stalk fresh lemongrass, tough outer layers removed and minced (about 3 tablespoons)
1 small leek, cut in half lengthwise then thinly sliced into ¼-inch half moons (about 1 cup)
Salt
3 tablespoons Thai green curry paste
1 quart of mussels (about 1 ½ pounds), rinsed and beards removed
1 cup Asahi beer
¼ cup Cilantro leaves
¼ cup Thai Basil leaves, torn
Juice of 1-2 limes
Toasted baguette, for serving
1. Add olive oil to the donabe steamer and place over medium heat.
2. Add sausage, diced eggplant, mushrooms, minced lemongrass, sliced leeks, and a pinch of salt and sauté for 5 minutes, stirring occasionally.
3. Add Thai curry paste, stir to mix in and cook for 30 seconds.
4. Add mussels and sauté for 1 more minute.
5. Add the beer, place the lid on the donabe, and cook for about 4 minutes or until all of the mussels are open.
6. Open and garnish with cilantro and thai basil. Squeeze over fresh lime juice and serve with a toasted baguette for dipping.
Originally featured in Japanese One-Pot Cooking