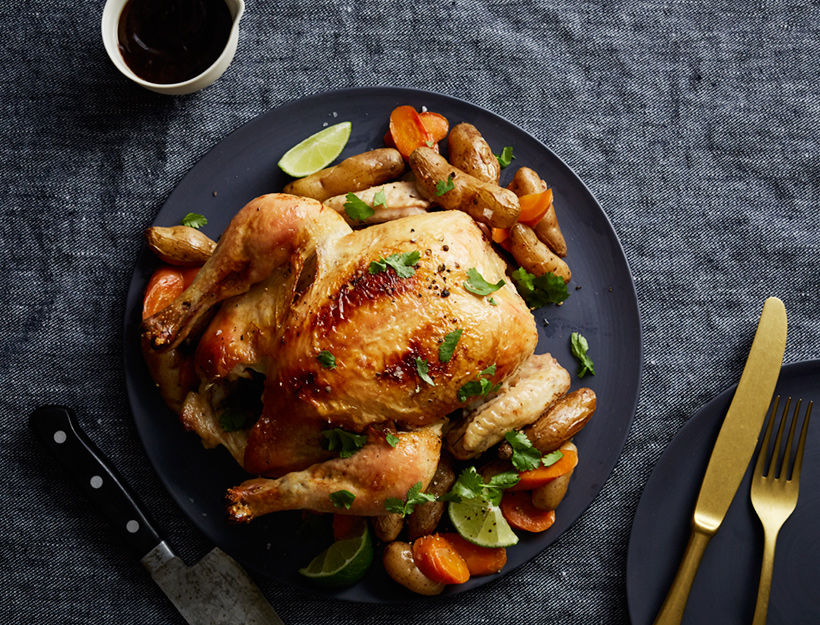 Donabe Roast Chicken
We thought roasting chicken in a donabe sounded a little nuts, but this is possibly the most tender, delicious chicken we've ever had. We cooked ours in this steamer donabe, but any medium-size (at least 1 ½ quarts) lidded clay pot – or even a dutch oven – would work.
1 medium whole chicken (3 ½ – 4 pounds)
Sea salt
Freshly ground black pepper
1 medium yellow onion, thinly-sliced
1 medium carrot, sliced into ¼" (6 mm) thick disks
3 garlic cloves
Extra virgin olive oil
10 oz (300 g) fingerling potatoes
3 fl.oz (100 ml) white wine
1 ½ teaspoons soy sauce
Cilantro, coarsely chopped
Lime wedges
1. Season all sides of the chicken lightly with the sea salt. Let it rest, uncovered, in refrigerator overnight.
2. One hour before cooking, take the chicken out of the refrigerator. Season all the sides with some black pepper, then rub with some olive oil.
3. Preheat the oven to 450°F.
4. Put the onion, carrot, and garlic cloves in the donabe, and drizzle over a little olive oil. Toss together.
5. Place the chicken on the bed of the vegetables. Season the potatoes with salt and pepper, and place them around the chicken. Pour in the white wine.
6. Roast, uncovered, in the oven for 20 minutes, or until the chicken is nicely browned.
7. Reduce the oven temperature to 400°F, then cover the donabe with lid, and continue to roast for about 40 minutes or until the center of the thickest part of the thigh reaches 175°F.
8. Transfer the chicken and potatoes into a pan. Cover with aluminum foil and let rest for 15 minutes.
9. Meanwhile, strain the remainder liquid from the donabe into a saucepan to make a sauce. Add the soy sauce and reduce it down until the liquid is thickened over medium-high heat. Adjust the seasoning with salt and pepper, if necessary.
10. Carve the chicken and plate with the potatoes in a serving platter. Serve with the sauce, cilantro, and lime wedges.
Originally featured in One-Pot Dinners