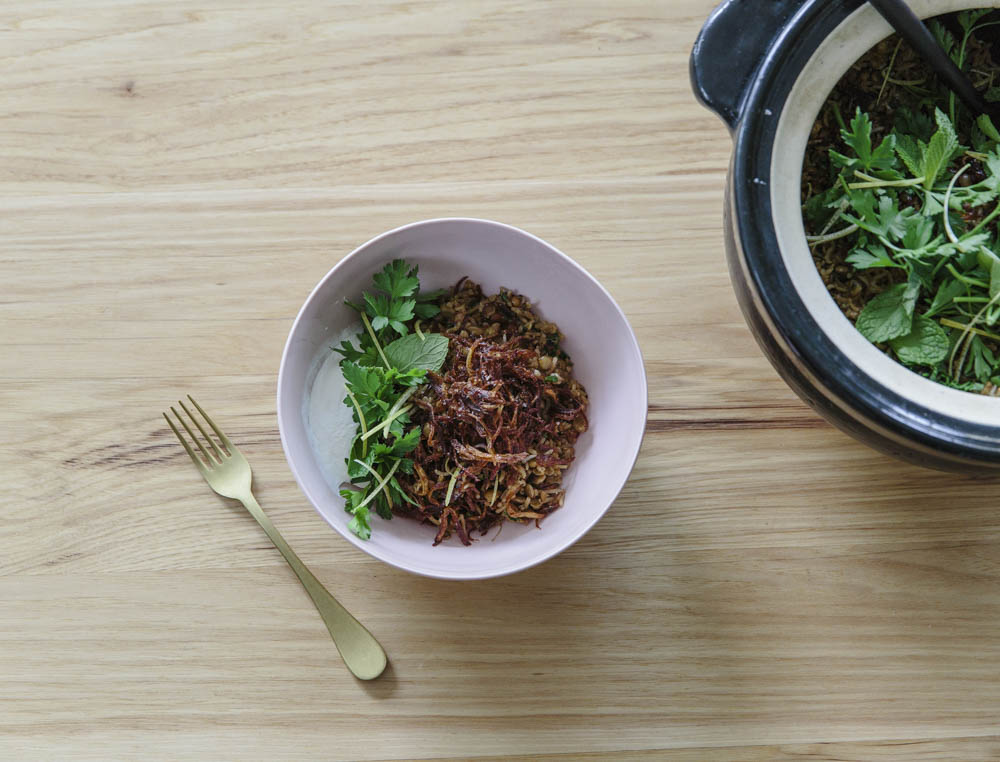 Donabe Rice with Lentils, Cumin, and Caramelized Onions
This is Tim's donabe version of a traditional Lebanese dish called mujadara.
1. Place the rice in a fine-mesh sieve and rinse thoroughly in cold water. Add rinsed rice to the donabe rice cooker along with the 1½ cups water. Let soak for 20 minutes.
2. While the rice is soaking, combine the lentils with 4 cups of water in a large saucepan. Bring to a boil, simmer for 10 minutes, then drain.
3. Add cooked lentils and 2 more cups of water to the donabe.
4. Meanwhile, heat ¼ cup olive oil in a sauté pan or Dutch oven over medium-low heat. Add the diced onions and cook for 15 minutes, or until dark and caramelized, adding 1 teaspoon of salt and 2 teaspoons of ground cumin about halfway through.
5. Add cooked onions to donabe along with the cinnamon and allspice.
6. Cover donabe with both lids, making sure the holes of the first lid are perpendicular to the top lid. Place the donabe over medium heat and cook until you see a steady stream of steam coming out of the hole in the top lid. Once you see the steam and can begin to smell the food, cook for another 5 minutes (this should take 15 to 20 minutes total). Remove from the heat and let rest 20 minutes.
7. While the donabe cooks, prepare the crispy onions. Place the oil in a saucepan or Dutch oven and heat to 375°F. Slice the onions very thin, and fry them in the oil until golden brown—don't rush this step: It should take at least 10 minutes for them to get nice and crispy.
8. Drain the browned onions on a paper-towel-lined plate and sprinkle with salt to taste.
9. To serve, uncover the donabe and toss in fresh mint, parsley, lemon zest, and crispy onions. Serve with a dollop of labneh or yogurt, if desired.
Originally featured in Japanese One-Pot Cooking