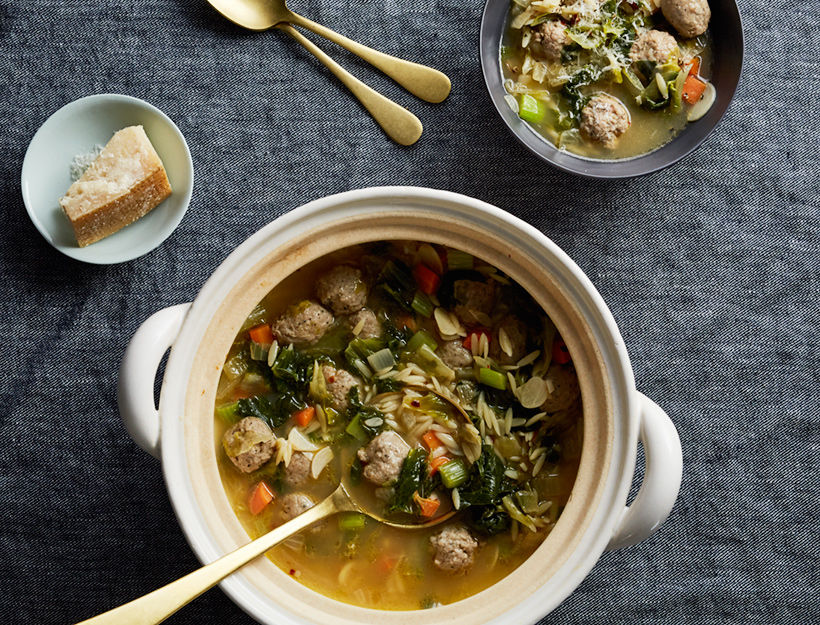 Donabe Italian Wedding Soup
This quick and easy version of a classic Italian wedding soup is the perfect antidote to a cold winter night. Warming and filling without weighing you down, this family-friendly one-pot dinner has a little something for everyone.
3 tablespoons olive oil
1 large carrot, diced
½ large yellow onion, diced
1 celery stalk, diced
3 garlic cloves, thinly sliced
¼ teaspoon chili flakes
4 cups chicken stock
1 pound pork or turkey sausage meat (casings removed if necessary)
4 cups escarole leaves, cut into ½-inch ribbons
⅓ cup orzo
1 egg
parmesan cheese, to garnish
1. Heat the olive oil in a medium-size donabe (or Dutch oven) over medium heat.
2. Add the carrots, onion, celery, garlic cloves, and chili flakes and a pinch of salt and sauté for about 10 minutes, or until tender and starting to brown.
3. Add the chicken stock and bring the mixture to a boil.
4. Meanwhile, roll the sausage into 20 individual meatballs.
5. When the chicken stock is boiling, add the meatballs, escarole, and orzo. Bring the mixture back up to a simmer, cover, and cook for 10 minutes, or until the meatballs are cooked through.
6. Beat the egg in a small bowl, and stir it into the simmering soup just before serving.
7. Taste for seasoning and finish with a drizzle of olive oil, some cracked black pepper, and parmesan cheese to taste.
Originally featured in One-Pot Dinners