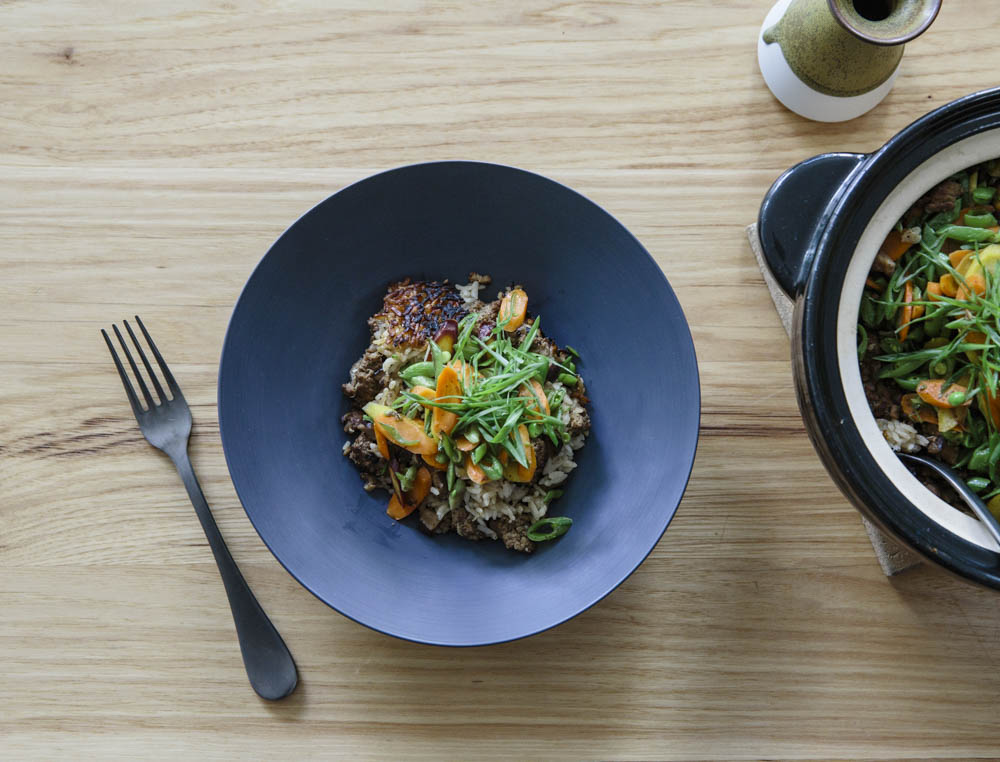 Donabe Ginger Rice with Beef, Shiitake Mushrooms, Carrot, Scallion, and Snap Peas
This simple rice dish is a real crowd pleaser! If you don't feel like prepping all the vegetables, Tim's wife Caroline makes an even simpler version with just rice, beef, onion, and garlic, and crumbles nori over the top to finish.
1 ½ cups short grain sushi rice
1 ½ cups water
1 teaspoon + 1 tablespoon olive oil
¾ pound ground beef
Salt and pepper to taste
½ yellow onion, finely diced
2 garlic cloves, minced
2 shiitake mushrooms, thinly sliced
1 tablespoon of grated ginger
3 medium carrots, peeled and thinly sliced on the bias (about 1 ½ cups)
1 ½ cups snap peas, cut into ⅓-inch slices on the bias
1 cup thinly sliced scallions
Smoked soy sauce and hot sauce, to finish
1. Place the rice in a fine mesh sieve and rinse thoroughly in cold water. Add rinsed rice to the donabe rice cooker along with the 1 ½ cups water. Let soak for 20 minutes.
2. While the rice is soaking, heat a large sauté pan or dutch oven over medium high heat and add a teaspoon of olive oil. Season the ground beef with a generous amount of salt and pepper and add to the pan with oil. Use a wooden spoon to break up the meat so it begins to brown all over. Add chopped onions, garlic, thinly sliced shiitake mushrooms, and grated ginger, and continue cooking for about 5 minutes.
3. Add the beef and vegetable mixture to the donabe with rice and cover with both lids, making sure that the holes of the first lid are perpendicular to the hole in the top lid. Place the donabe over medium heat and cook until you see a steady stream of steam coming out of the hole in the top lid. Once you see the steam and can begin to smell the food, cook for another 5 minutes (this should take 15-20 minutes total).
4. Remove from the heat and let rest 20 minutes. While the donabe rests, heat another sauté pan over medium heat and add the remaining tablespoon of olive oil. Add the carrots and cook for 3 minutes, until just starting to soften. Add snap peas and diced scallions and sauté another 2 minutes. Season to taste with salt and pepper.
5. When the rice mixture has rested for 20 minutes, remove the lid and mix in sautéed carrots, snap peas, and scallions.
6. Serve with smoked soy sauce and hot sauce of choice.
Originally featured in Japanese One-Pot Cooking