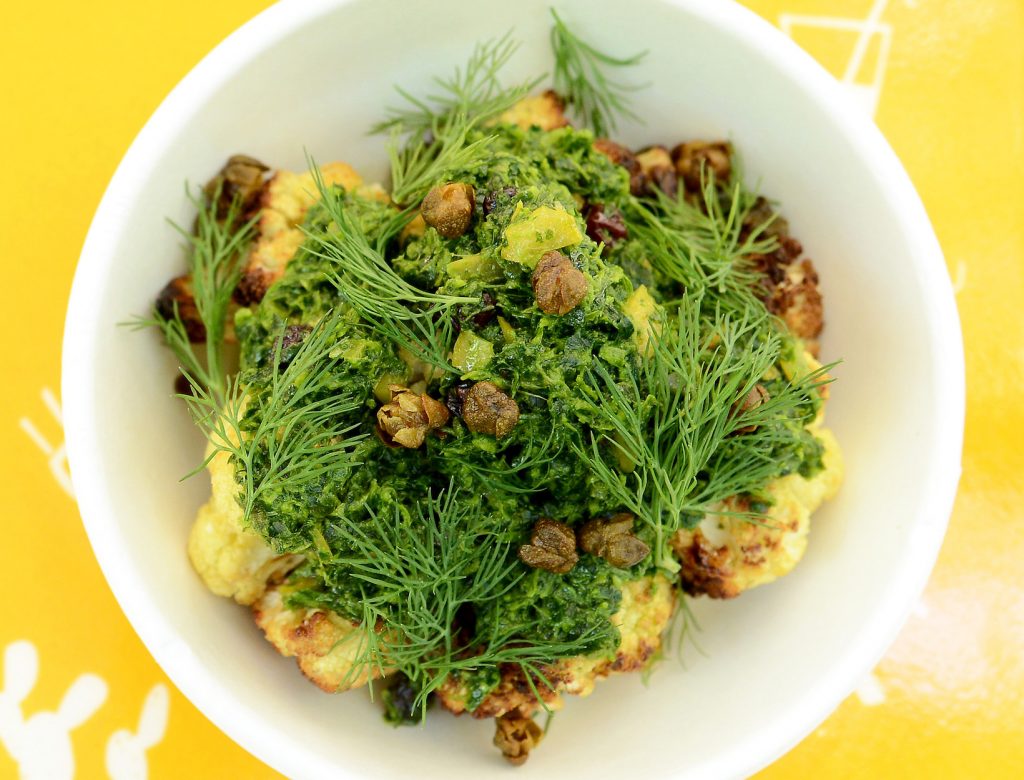 DEZ's Cauliflower Mezze
"I love roasted cauliflower, especially when it gets a little charred. And the chimichurri in this is so bright-tasting, it's addictive. It's easy to make this dish part of a larger meal, because its flavor and freshness brilliantly complement any other dish you serve it with." —Eden Grinshpan, DEZ chef/cofounder
for the cauliflower:
1 head cauliflower
¼ cup extra virgin olive oil
1 teaspoon kosher salt
for the chimichurri:
1 cup cilantro
1 cup parsley
1 clove garlic
2 tablespoons chopped preserved lemon (rind only)
1½ cups extra virgin olive oil
⅓ cup white wine vinegar
½ cup rehydrated currants in water (soak the currants in hot water for 30 minutes, then strain them)
½ teaspoon kosher salt

to garnish:
fried capers (rinse and dry the capers, heat oil in a pot, and fry the capers until lightly golden and flowered)
fresh dill
1. Preheat the oven to 450°F.
2. Cut the cauliflower into florets and toss with the olive oil and kosher salt. Roast in the oven for 15 to 17 minutes, until golden and toasted.
3. To prepare the sauce: In a blender, add cilantro, parsley, garlic, and preserved lemon. Blend and slowly add in the oil. When all mixed together, remove from the blender and stir in the currants and the vinegar.
4. Pour the sauce over the cauliflower to taste. Top with the fried capers and garnish with the dill.