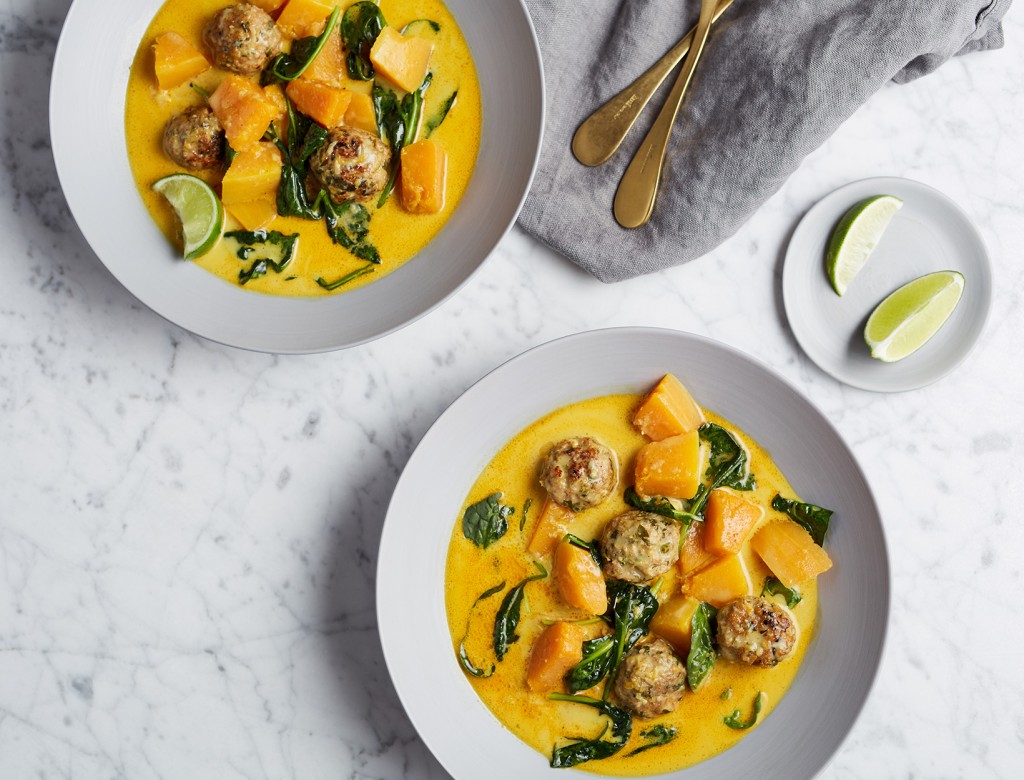 Detox Turkey Curry
This super flavorful curry is a perfect weeknight dinner—it's fast and foolproof.
for the turkey meatballs:
½ pound dark-meat turkey
2 tablespoons chopped chives
¼ cup chopped cilantro
zest of 1 lime
1 teaspoon salt
for the curry:
2 tablespoons coconut oil
2 cloves garlic, grated
4-inch piece of ginger, grated
2 tablespoons curry powder
1 (15-ounce) can coconut milk
1½ cup chicken stock
1½ cup of cubed butternut squash
2 large handfuls of spinach
1 lime, cut into wedges
1. First combine all the ingredients for the meatballs. Then shape into 1-inch balls. Set aside while preparing the curry.
2. In a medium-size pot, heat the coconut oil over medium-high heat. Add the garlic, ginger, and curry powder, stirring frequently until fragrant. Then add the coconut milk, chicken stock, and butternut squash, reducing the heat to medium. Let simmer for about 10 minutes.
3. Add the turkey meatballs. They should take another 10 minutes or so to cook through.
4. Right before serving, add the spinach and stir in until wilted.
5. To serve, finish with a squeeze of fresh lime.
Originally featured in The 3-Day, Anti-Bloat Summer Reset