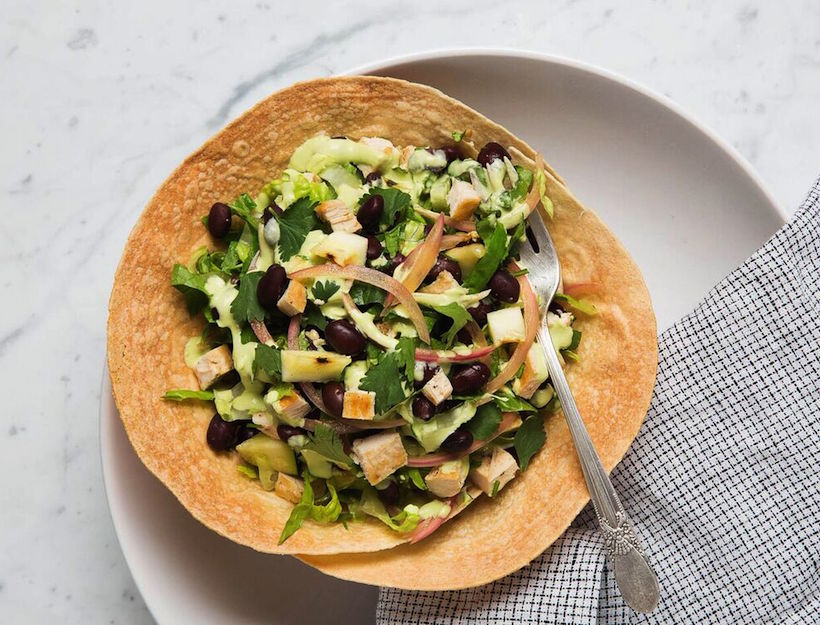 Detox Tostada Salad with Cilantro Cashew Dressing
There are a lot of components to this salad, but they're all pretty easy to make and the end result is worth the effort. The creamy consistency of the dressing is achieved by using cashews, but remember that they have to soak for at least one hour to soften, so be sure to plan in advance.
for the pickled red onions:
1 tablespoon red wine vinegar
1 tablespoon coconut sugar
1 large pinch salt
6 peppercorns
¼ cup red onion, very thinly-sliced
for the cashew/lime dressing:
¼ cup soaked cashews, soaked in filtered water for at least one and up to 24 hours
¼ cup scallions (about 1 large or 2 small), very-finely sliced
½ cup cilantro (stems and leaves), roughly-chopped
¼ cup olive oil
juice of 1 large or 2 small limes
5 tablespoons water (or to taste)
salt to taste
for the salad:
1 gluten free brown rice tortilla
1 small chicken cutlet (about 1/3 pound)
2 tablespoons olive oil
salt
¼ teaspoon ground cumin
¼ teaspoon ground chili powder
1 small zucchini, cut in half lengthwise
1 packed cup romaine, finely-chopped
¼ cup canned black beans
2 tablespoons fresh cilantro, chopped
1. To make the quick pickled red onions, combine red wine vinegar, coconut sugar, salt, peppercorns, and thinly-sliced red onion in a medium bowl. Just cover with boiling water, stir, cover with plastic wrap and let sit at least 10 minutes.
2. To make the dressing, combine first six ingredients in a powerful blender and blitz until very smooth. Add more water if desired and season with salt to taste.
3. To make the tortilla shell, preheat the oven to 350°F.
4. Lightly spray an ovenproof ceramic bowl or very large ramekin with olive oil spray and arrange the tortilla inside to make a shell. Place in the oven and bake for 10 minutes.
5. While the tortilla bakes, toss the chicken cutlet with 1 tablespoon olive oil, a pinch of salt, and the ground cumin and chili powder; let sit for 10 minutes to marinate.
6. Heat a grill pan over medium high heat and grill chicken for about 3 minutes per side, or until nicely grilled and cooked through. Remove to a plate to rest, toss zucchini with remaining tablespoon olive oil and a pinch of salt and grill for about 2 minutes per side. Set aside to cool.
7. Cut grilled chicken and zucchini into a small dice and place in a bowl with the chopped romaine, black beans, and cilantro.
8. Toss salad with some of the dressing and some of the pickled onions. Scoop the salad into the tortilla shell and serve with extra dressing and pickled onions on the side.
Originally featured in The 2016 goop Detox