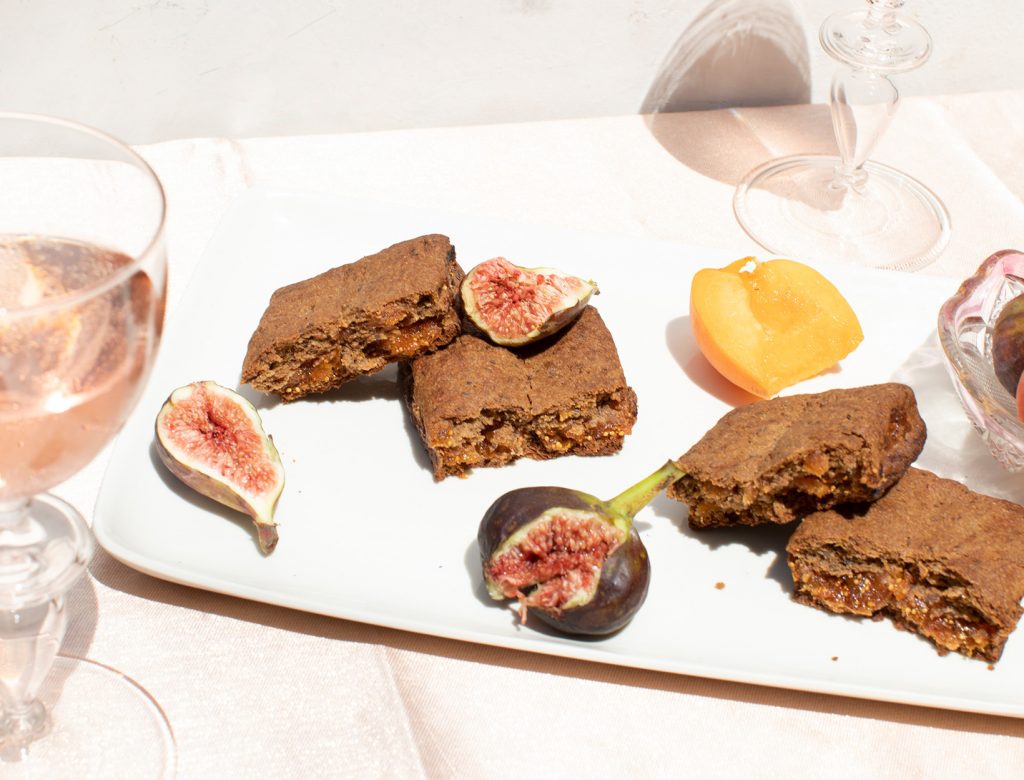 Detox Tea Apricot-Fig Bars
These cardamom-perfumed bars, infused with lemongrass and antioxidant-rich red rooibos from Sakara's Detox Tea, have a tender outer crust with a filling of figs, apricot, and vanilla bean.
1. Make the dough: In a large mug, add 1 cup of boiling water to the tea. Let steep for 10 minutes.
2. In a small bowl, whisk together the chia seeds and 3 tablespoons of the tea. (Reserve the remaining tea for the filling.) Set the mixture aside to gel for 10 minutes.
3. In a food processor, combine the flour, sugar, baking soda, salt, cinnamon, and cardamom; pulse just to mix. Add the oil, honey, vanilla, and chia-tea gel and pulse until the mixture forms a ball. Turn out the dough onto a sheet of plastic wrap. Wrap the dough tightly and form it into a disk. Chill it in the fridge for at least 1 hour, or overnight.
4. Make the filling: In a small saucepan, combine the figs, apricots, lemon juice, and salt with ½ cup of the reserved tea over medium-low heat. Scrape the vanilla seeds into the pot and toss in the pod, too. Bring to a gentle simmer and cook until the figs and apricots start to soften and the mixture thickens, 10 to 15 minutes. Remove the pot from the heat and carefully fish out the vanilla pod and discard. Transfer the mixture to a food processor and pulse until the mixture is slightly chunky.
5. Assemble the bars: Preheat the oven to 350°F. Line a baking sheet with parchment paper and set aside.
6. Unwrap the chilled dough from the plastic and place it on a piece of parchment paper. Lay another sheet of parchment paper on top and use a rolling pin to roll out the dough until it is roughly a 4×11-inch rectangle and about ¼ inch thick. Spread the fig and apricot filling evenly over the dough. Using the edge of the parchment to help, gently lift one of the long edges of the rectangle and fold it over the filling as though you're holding a letter. Repeat with the second side and press lightly to seal. Slice the rectangle into 1-inch pieces and arrange them seam side down on the prepared baking sheet.
7. Bake the bars for 15 to 20 minutes, or until the dough is just turning golden brown. Let the bars cool completely before storing at room temperature for up to 3 days.
From Eat Clean, Play Dirty: Recipes for a Body and Life You Love by the Founders of Sakara Life by Danielle DuBoise and Whitney Tingle, published by Abrams, © 2019. Photographs by Sakara Life.
Originally featured in Sex and the Single Cinnamon Roll