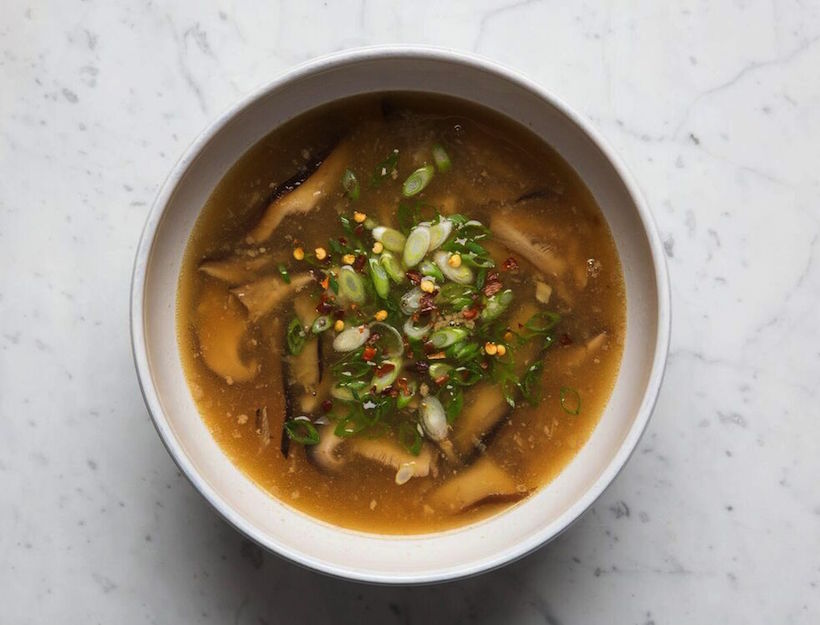 This clean version of a Chinese take-out standby is assertively bright and ginger-y. It's perfect for a chilly winter afternoon or evening.
1. In a medium dutch oven or thick-bottomed saucepan, heat olive oil over medium low heat. Add mushrooms and a pinch of salt, cover the pot, and let them sweat for five minutes, stirring occasionally. Turn the heat up to medium high, add garlic and sauté, uncovered, for one minute, or until mushrooms start to brown and garlic is fragrant (don't worry if the mushrooms start to stick—they'll come unstuck when you add the chicken stock).
2. Add chicken stock and chili flakes, using a wooden spoon to scrape up any garlic or mushrooms stuck to the bottom of the pot. Bring the mixture up to a boil, then simmer for five minutes.
3. Meanwhile, whisk together rice wine vinegar, toasted sesame oil, soy sauce, ginger, arrowroot powder, and water in a small bowl. Stir the mixture into the soup (you can add 1 tablespoon water to the bowl to make sure you get everything out, if desired) and simmer for one minute, or until the soup is slightly thickened. Add salt, pepper, and chili to taste and serve with sliced scallions on top.
Originally featured in The 2016 goop Detox