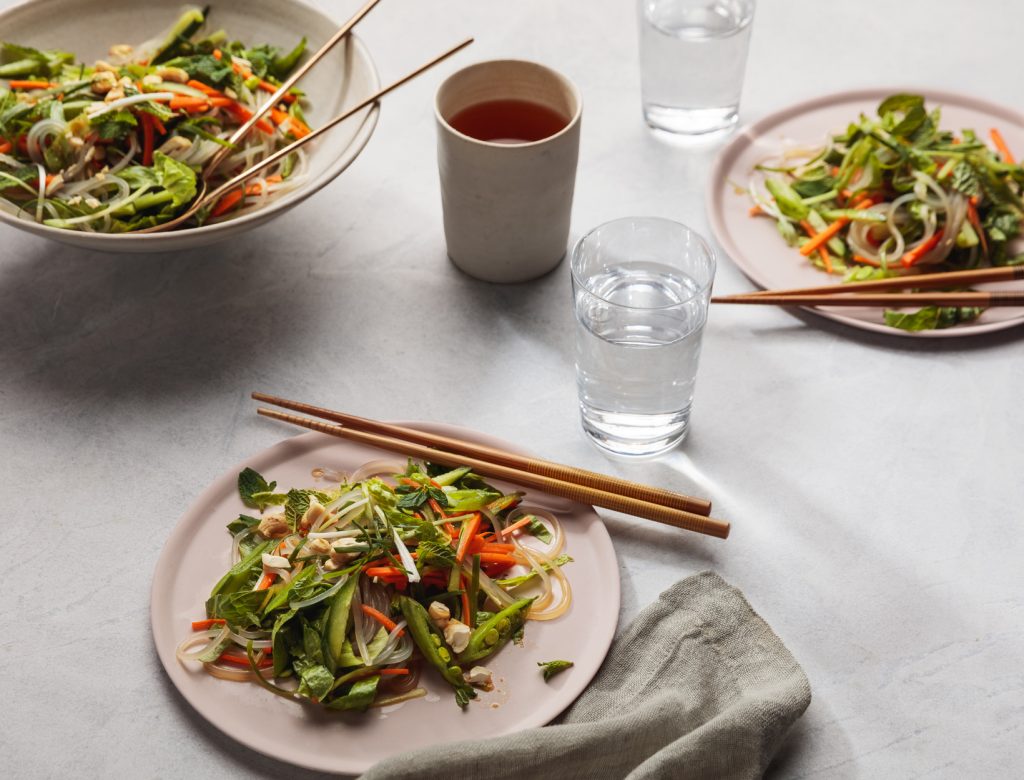 Detox Bun Salad
This salad is super refreshing, and the chewiness of the sweet potato vermicelli noodles hits the spot if you miss the chew of gluten in pasta. Pack it in a jar before work with the dressing on the bottom and give it a toss when you're ready to eat for a delicious desk lunch.
For the salad:
2 ounces sweet potato vermicelli
1 small head romaine lettuce
1 carrot, grated
1 small Persian cucumber, julienned
⅓ cup julienned snap peas
2 scallions, thinly sliced
¼ cup cilantro leaves
2 tablespoons mint leaves
2 tablespoons roughly chopped raw cashews
1 cooked chicken breast, cubed (optional)
For the dressing:
½ clove garlic, grated
2 tablespoons fish sauce
2 tablespoons coconut aminos
juice of ½ lime
1. Bring a large pot of water to a boil. Add the sweet potato noodles and cook for about 5 minutes. Drain and rinse under cold water until fully cooled. With scissors, cut the noodles down a bit (they can be quite long) and set aside.
2. Prepare the dressing by whisking all the ingredients together in a small bowl.
3. Arrange all the salad ingredients in a large, shallow bowl and top with the herbs and cashews before drizzling with the dressing. Mix everything together.
Originally featured in The Annual goop Detox 2019