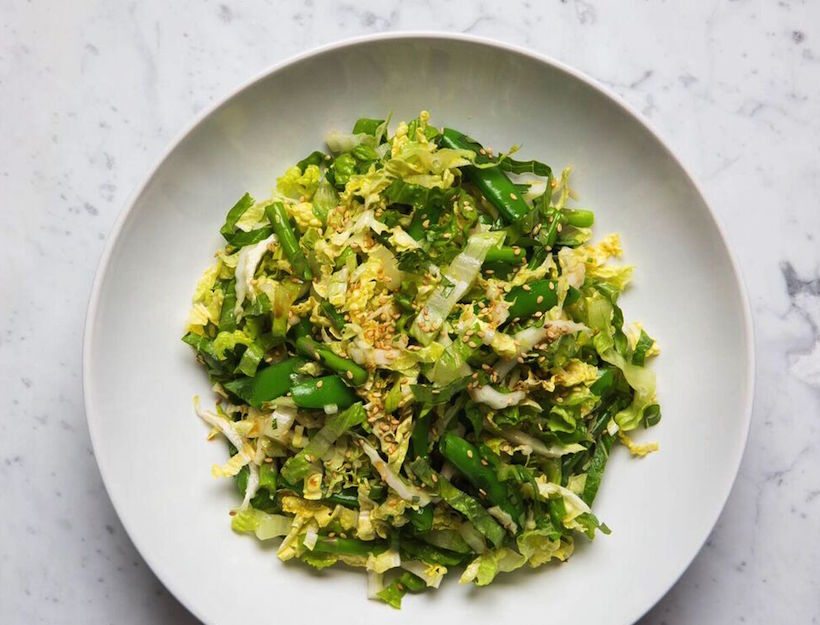 Detox Chop Salad with Sesame Dressing
This makes a great light meal on its own but we particularly like it served with simply grilled chicken or our five spice salmon burgers. Dress only as much salad as you'll eat in one sitting—undressed leftovers keep well in the fridge for a couple of days.
for the dressing:
juice of ½ medium lemon
1 tablespoon gluten-free soy sauce
2 teaspoons coconut sugar
3 tablespoons olive oil
1 ½ teaspoons toasted sesame oil
salt and pepper
for the salad:
1 cup small snap peas or large ones cut in half
1 cup 1-inch pieces asparagus
2 cups packed romaine, finely-chopped
2 cups packed napa cabbage, finely-chopped
3 scallions, thinly-sliced
¼ cup chopped cilantro
1. To make the dressing, whisk together all ingredients and season with salt and pepper to taste.
2. Bring a medium pot of salted water to a boil. Add asparagus and snap peas, bring the water back up to a boil, then drain and refresh in ice water. Dry the vegetables well, and combine with romaine, napa cabbage, scallions, and cilantro in a medium bowl.
3. Toss with dressing to taste and serve immediately.
Originally featured in The 2016 goop Detox