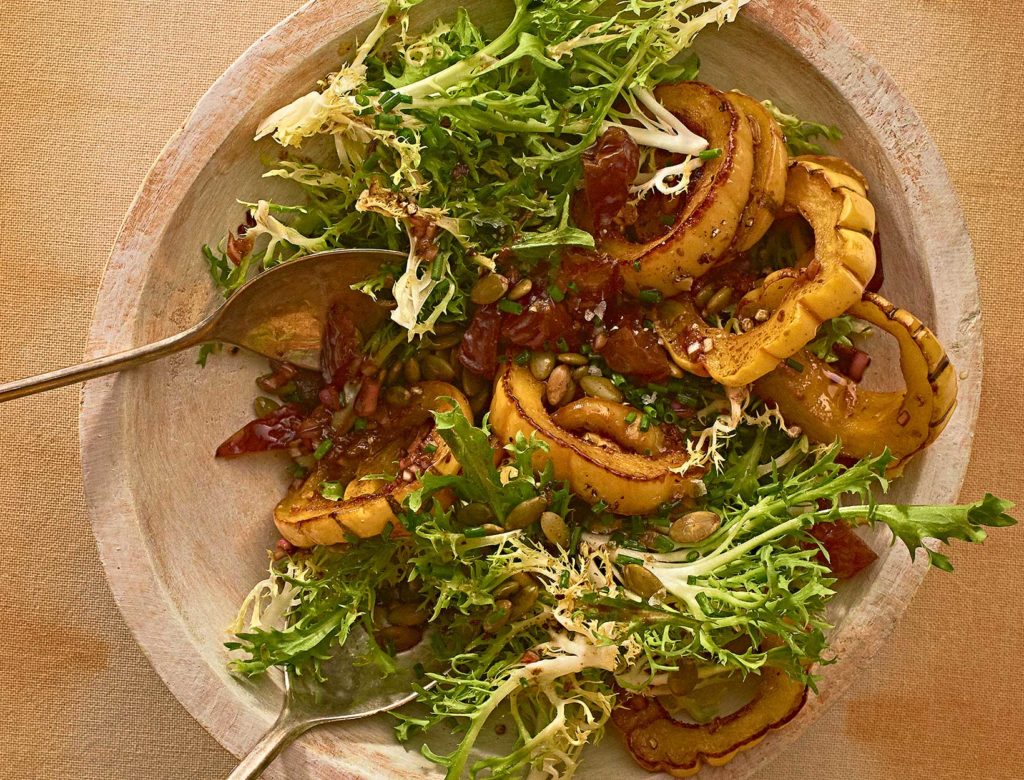 Delicata Squash and Frisée Salad with Dates and Pepitas
We are firmly in the "Your Thanksgiving Menu Needs a Salad" camp. We want at least one bite to be raw, crunchy, and acidic to counter all the heavy stuff. This offering is a great compromise for salad lovers and haters alike. It has a piquant sherry-mustard dressing and bitter frisée—a welcome break for your palate—but it's balanced by rich roasted squash, sweet chewy dates, and nutty pepitas.
1. Preheat the oven to 425°F.
2. In a large bowl, toss the squash with a few glugs of the olive oil and a pinch of salt and spread it on a sheet pan. Cook until browned and tender, about 25 to 30 minutes. Let cool for 10 minutes.
3. Meanwhile, whisk together the mustard and vinegar in a small bowl. Slowly drizzle in the ¼ cup olive oil, whisking constantly to emulsify. Once emulsified, mix in the shallots and season with a pinch of salt and freshly ground black pepper to taste.
4. Toss the frisée, dates, pepitas, and cooled squash with the dressing. To serve, top with more pepitas and dates as well as the chives.
Originally featured in 4 Easy, Wild Card Veggie Sides for Thanksgiving Day