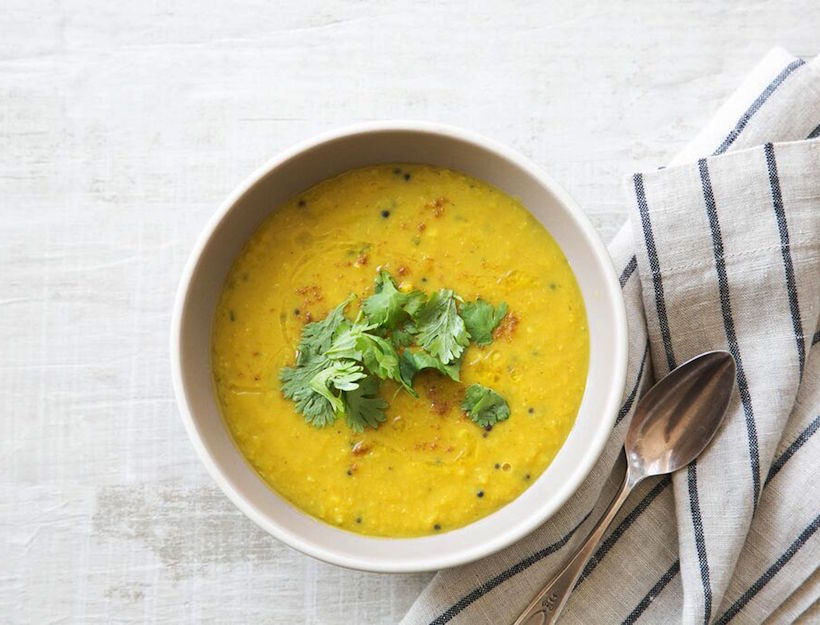 Dal Shorba
This comforting soup is perfect on a chilly fall afternoon. We used split red lentils, which don't need soaking, but be sure to read the directions on the package. Some need to soak for about an hour before cooking.
¾ cup red lentils
1/3 teaspoon ground turmeric
20 cilantro stems
2 cups water
salt and pepper
2 tablespoons finely chopped ginger
2 tablespoons ghee
1 teaspoon mustard seeds
3 large garlic cloves, minced
2 tablespoons chili powder
ground cumin, to garnish
chopped cilantro, to garnish
1. Combine lentils, ground turmeric, cilantro stems, and water in a medium saucepan and bring to a boil, stirring frequently. Reduce heat to maintain a low simmer, and cook, stirring often, for about 20 minutes or until lentils are tender. When cooked, remove cilantro stems and use an immersion blender to purée. Season with salt to taste.
2. Meanwhile, heat ghee in a large sauté pan or dutch oven over medium heat. Add mustard seeds and cook for about 30 seconds.
3. Add garlic, and cook another 30 seconds.
4. Add chili powder, lower the heat, and sauté about 1 minute.
5. Add the cooked lentils and water as needed to achieve a soup-like consistency. Simmer for five minutes to allow flavors to meld, then add salt and pepper to taste.
6. Serve warm garnished with ground cumin and chopped cilantro.
Originally featured in Ayurveda & How To Eat For Your Dosha