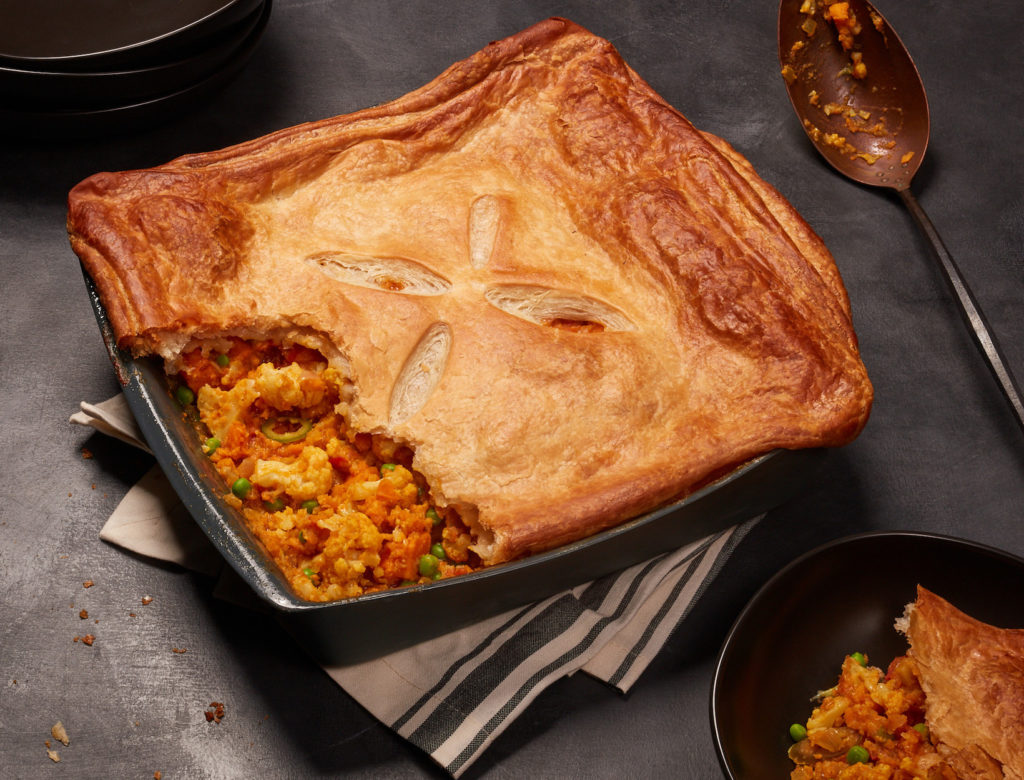 Curried Sweet Potato Potpie
Holidays mean pie. Holidays mean sweet potatoes. And this holiday sweet potato pie is not the one you're thinking of. We were initially inspired by samosas—the delightful triangle-shaped fried pastries stuffed with potatoes, peas, and spices in South Asian cuisine. We opted for a large potpie that can serve a crowd instead of individual pastries, swapped the regular potatoes for sweet potatoes for maximum holiday vibes, and, for extra veg, added in some cauliflower à la aloo gobi (another favorite dish from Indian cuisine). It was a fun food puzzle to put together, but it's even more fun to eat.
1. Heat the ghee over medium heat in a wide pan. Add the onion along with a generous pinch of salt and let cook for about 5 minutes, until it begins to look translucent. Then add the garlic, chili, ginger, and spices and cook for another 5 minutes, until soft and fragrant. Add the tomatoes and cook for 8 to 10 minutes. They should get very soft and break down, releasing a good amount of liquid. Add in the sweet potatoes, cauliflower, and peas. Mix them into the tomato mixture and let cook for another 5 minutes before adding the water. Bring it to a simmer, reduce the heat to medium-low, and cover. Let cook for about 20 minutes, until the sweet potatoes are tender. Taste for seasoning and add salt as needed.
2. Let the mixture cool and preheat your oven to 375°F.
3. Once the sweet potato mixture has cooled to room temperature, use a potato masher or the back of a fork to roughly mash about half of it—you don't want it fully mashed, but by breaking down some of the mix you'll get a more cohesive filling (somewhat akin to the filling in a samosa). Then transfer the mix to a pie plate.
4. Lay your thawed puff pastry over your pie plate, pressing down on the edges to secure it (if it doesn't quite cover, give it a little roll on a lightly floured surface). Cut a few slits around the center to vent the steam.
5. Brush the crust lightly with the beaten egg and bake for about 35 minutes or until the pastry is golden brown and crispy.
Originally featured in Vegetarian Dishes That Can Be the Main Event