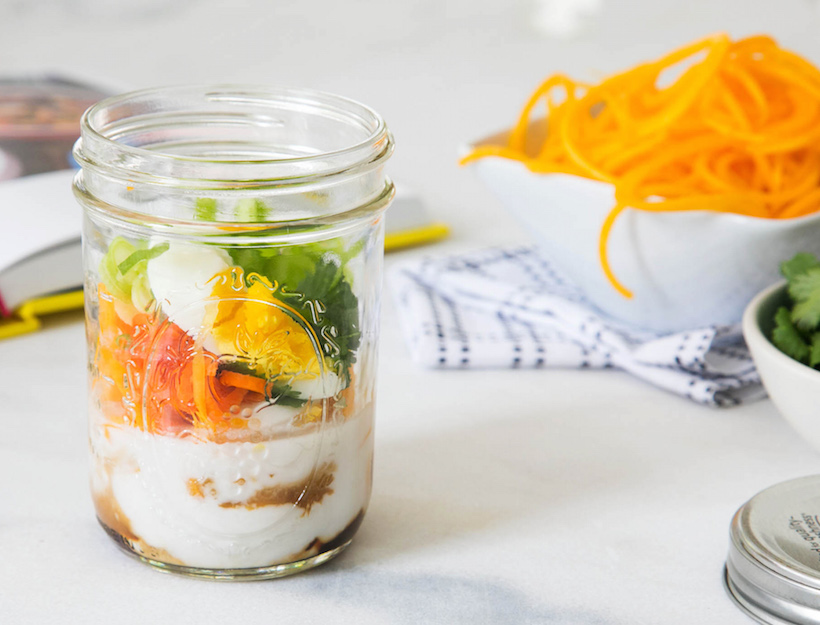 Curried Egg Squash Noodle Pot
The coconut milk makes this noodle pot creamy while the turmeric adds a pop of color and a ton of health benefits—it's anti-inflammatory, blood purifying and aids in digestion. If you don't have a spiralizer, try this with pieces of roasted butternut squash instead. It's also great with zucchini noodles (also called zoodles) in the summer.
½ cup full fat coconut milk
2 teaspoons garam masala or medium curry powder
½ teaspoon ground turmeric or freshly grated turmeric
1 small garlic clove, finely minced
1 pinch chili flakes or cayenne
2 tablespoons grated ginger squeezed to get 1 tablespoon ginger juice
1 tablespoon tamari
1 small handful cilantro leaves
1 or 2 scallions, thinly sliced
1 hard boiled egg, quartered
1 handful butternut squash noodles
1 handful spinach leaves
1 lime wedge
1. Combine all ingredients in a heatproof jar and refrigerate until ready to eat.
2. When ready, boil the kettle and remove the lime wedge from the jar.
3. Let the boiled water sit for a minute or two before filling the jar (leave a half inch at the top so it doesn't overflow).
4. Stir, cover and let sit five minutes.
5. Remove the lid, stir again, squeeze in the lime juice and enjoy.
Originally featured in Ingenious Noodle Pot Lunch Recipes