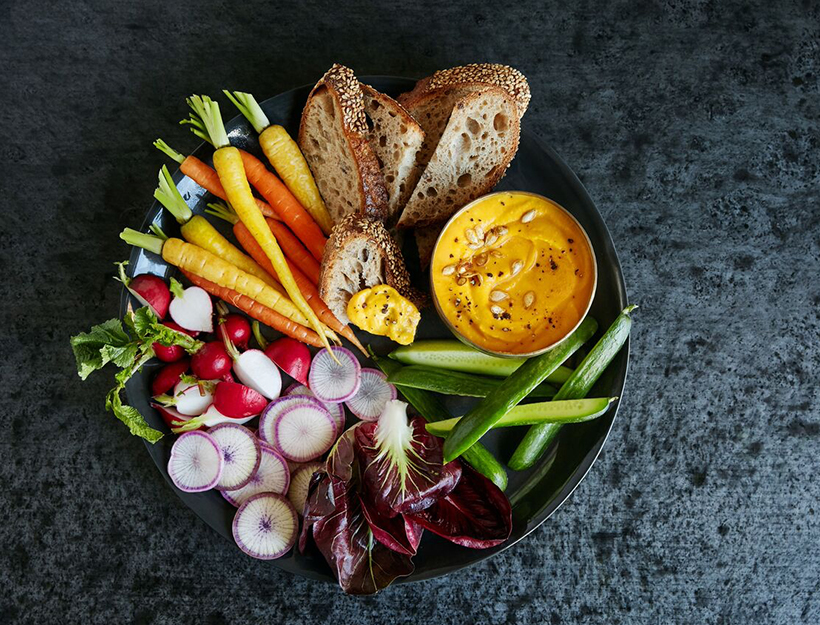 Cultured Butternut Squash Dip with Pumpkin Oil
We're always looking for great dip recipes, and this unique pickled butternut squash one is a new favorite. Heads up: This makes a lot of dip, so feel free to halve or even quarter the recipe.
1. First, make the pickle: Peel and seed the butternut squash, cut into 1-inch pieces, and place in a large glass or ceramic jar (you might need a couple).
2. Next, make the brine: Remember that you need enough brine to completely cover the vegetable, so amounts will vary depending on how big your butternut squash is. To make the brine, simply whisk 1 tablespoon of kosher salt into every cup of water needed. Pour the brine over the squash, top with a small plate or ceramic weight to keep the pieces submerged, cover with a lid, and let sit in at room temperature (ideally between 60°F and 68°F) for at least 1 week and up to 3 weeks.
3. To make the dip, first preheat the oven to 350°F. Remove the pickled squash from the brine and peel, seed, and chop.
4. Scrape away some of the extra squash pulp from the seeds and toss them with the sunflower or grape-seed oil and a bit of salt. Spread evenly on a baking sheet and cook in the preheated oven for 15 to 20 minutes, until toasted and fragrant.
5. Meanwhile, steam the raw chopped squash until tender.
6. Combine the steamed squash, the fermented squash, and half of the oil in a blender or food processor and blend until smooth. Season to taste with salt and allow the mixture to cool to room temperature. To finish, garnish with the remaining oil and the roasted seeds and serve with bread, crackers, or crudité vegetables.