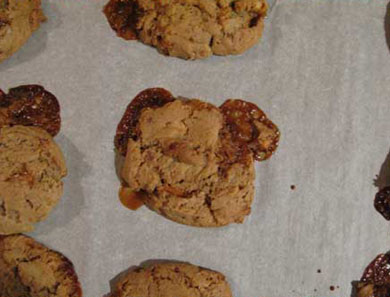 Crystal's TNTs A.K.A. Hey, Where'd My Candy Go?
A variation on what's known on the streets as a Kitchen Sink, TNTs (which stands for Trick N Treats) are good for two reasons: 1. They allow you to stuff several varieties of candy bars in your mouth at once, with no risk of getting some really weird looks. 2. It's the fastest way to empty out the plastic pumpkin goodie stash we've ever seen.*
* We heard you could get rid of Halloween candy even faster by tossing it out but we've never seen anything that crazy happen!
3 cups unbleached, all-purpose flour
1 teaspoon baking soda
½ teaspoon salt
1 stick unsalted butter (8 tablespoons) at room temperature
1 cup packed brown sugar
1 cup granulated sugar
2 large eggs
2 teaspoons vanilla extract
2 tablespoons milk
2 to 3 cups candy, chopped (recommended: chocolate bars or chocolate covered anything, caramel anything, chips, pretzels, raisins; just so-so: lollipops, hard candies; not recommended: gum, gummies, pixi stix)
1. Preheat oven to 375° F. Line two cookie sheets with parchment paper.
2. In a medium bowl, whisk flour with baking soda and salt and set aside. In another medium bowl, cream butter and sugars together with a whisk or wooden spoon until light and fluffy (this takes about 3 minutes). Add eggs one at a time, thoroughly incorporating each, and then add vanilla and milk and beat until combined. Add the flour mixture to the butter mixture, mix until incorporated, then fold in chopped candy.
3. Drop by rounded tablespoons (a mini ice cream scooper is my favorite way to portion them) onto cookie sheets, leaving about 2 inches between each cookie (room to grow). Bake for 12 minutes or until golden brown. Let cool on a wire rack.
Originally featured in Treat Street